Ingredients
Trout :
400g sea Trout fillets  
20g salt  
20g sugar   
Rhubarb:  
300g rhubarb   
100g raspberry  
0,06g agar agar   
15g cane sugar  
Yka sugar :
Passion fruit dressing :
50g passion fruit pure   
30g grape seeds oil  
1tbs mustard  
salt and pepper to taste  
5g Yka Leaves
Method
Trout :
Marinate trout 2 hour, then wash and dry on paper towel .
Smoked 3 times with smoking gun, use cherry tree chips.
Rhubarb:
Peled rhubarb. 
Put all ingredients to the vacuum bag and vacuum. 
Boil at 54°C for 30 minutes.  
Yka sugar:
Passion fruit dressing:   
Mix all ingredients in blender  
Recipe: Ernest Jagodziski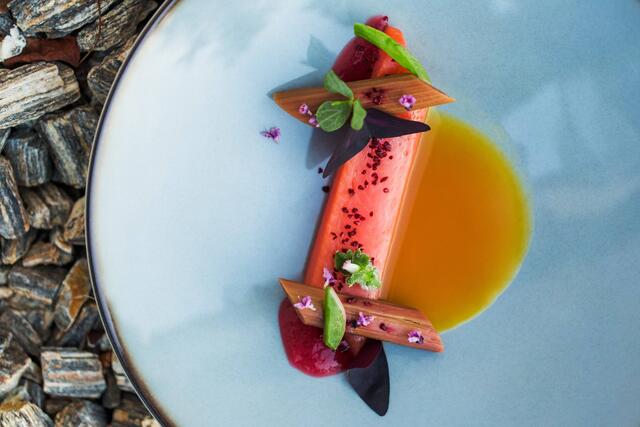 Related recipes
Gastronomical masterpieces
Related products
Say yes to the cress