Ingredients
(For 4 portions)
Raspberry marinade:
55g caster sugar
250g raspberry puree
10g alcohol de framboises
20g butter
Baked meringue:
70g egg whites
70g caster sugar
70g icing sugar, sieved
Strawberry jam:
100g Boiron strawberry puree
½ vanilla pod, seeds only
25g caster sugar
10g caster sugar
3g sosa pectin
112g fresh raspberries
3.5g lemon juice
Kaffir Lime Leaves granite:
115 water
5g fresh Kaffir Lime Leaves ripped
40g caster sugar
200g sparkling water
Décor:
8x medium size strawberries, prepared and cut in half
20x raspberries
5x wild strawberries
Atsina Cress
Method
Raspberry marinade:
Warm the puree in a pan until approx. 50℃.
Cook the sugar to 140°C, stop the cooking with the warmed puree.
Hand blend together and add the alcohol, off the heat. 
Allow to cool slightly then blend in the butter.
Pass through a chinois.
Cool.
Baked meringue:
Whisk the egg whites until semi peak.
Add the caster sugar slowly, whisk until meringue is stiff. 
Fold in the icing sugar by hand,until smooth. 
Spread onto a silpat 1.5cm high, add bake at 90℃ for 1 hour. 
The meringue should be crunchy on the outside, and soft in the middle, with no colour.
Strawberry jam:
Bring to the boil the puree, vanilla, and the 1st caster sugar. 
Sprinkle in the sugar / pectin mix and make smooth. 
Boil for 2 minutes. 
Remove from the heat, and whisk in the fresh raspberries. 
Boil for 30 seconds, add the lemon juice, and store in the fridge.
Kaffir Lime Leaves granite:
Heat 1st water to approx. 90℃.
Remove from the heat and add the leaves, and sugar hand blend to break up the leaves and release the oils. 
Clingfilm and infuse until cool. 
Add the sparkling water, pass through a chinois, squeezing out well. 
Freeze in a suitable container whisking regularly.
Recipe: Simon Jenkins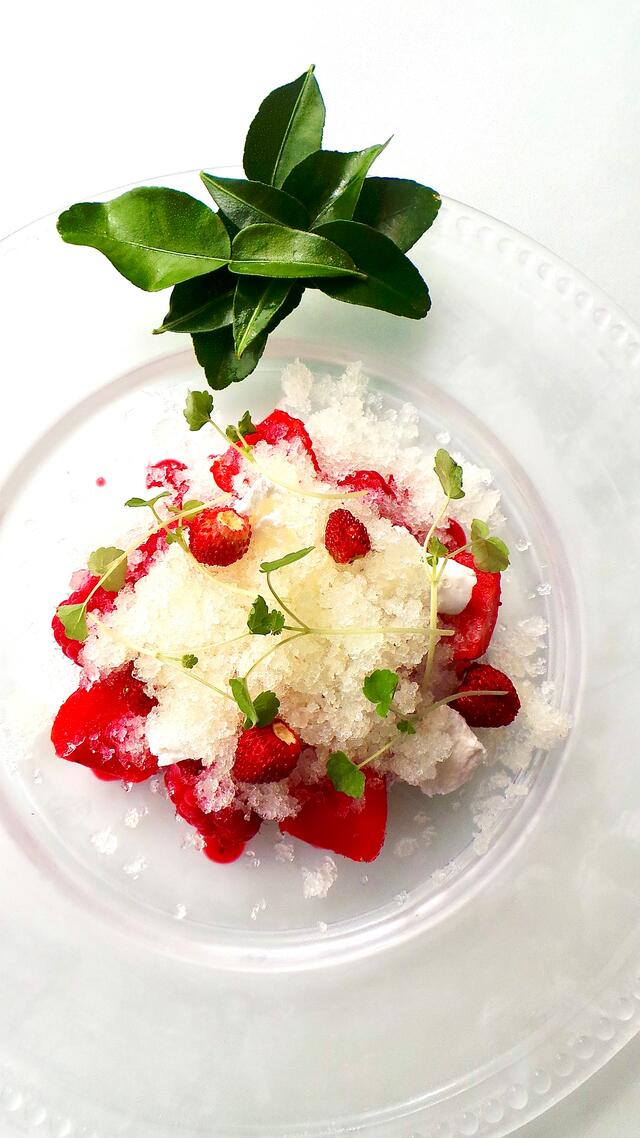 Related recipes
Gastronomical masterpieces
Related products
Say yes to the cress