Ingredients
Marinate:  
50g oyster sauce  
100g soya sauce  
25g honey  
5pcs junper  
1pcs lime skin  
Red wine jelly: 
0,7l red wine  
0,2l beetroot juice  
1pcs cinnamon stick  
1pcs anise star  
80g honey  
1pcs bay leaf  
32g Sosa elastic  
Shiso Oil: 
20 Shiso Leaves Green  
100g grape oil  
Shiso mayonnaise: 
1pcs egg's yolk  
100ml Shiso oil  
salt   
Method
Clean meat.
Mix all ingredients for marinate. 
Add meat to marinate, put to the vacuum bags and vacuum
Keep in the fridge for 1 hour.  
Before serve burn meat with a burner. 
Red wine jelly: 
Boiled all ingredients 10 minutes
After this time add Sosa elastic and cook slowly 5 for minutes
Pour a very thin layer on the tray
Shiso Oil: 
Put grape oil and Shiso Leaves Green in to thermomix at 50°C for 4 minutes and mix in full power.
Shiso Mayonaise  
Put egg yolk in bowl.
Slowly put oil and still whisk. 
Put salt to taste. 
Recipe: Ernest Jagodziński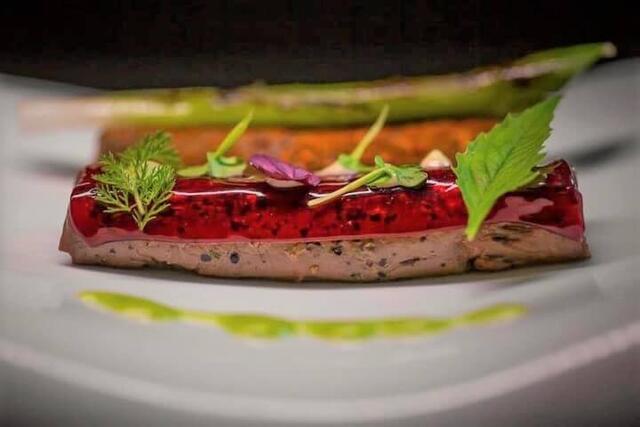 Related recipes
Gastronomical masterpieces
Related products
Say yes to the cress