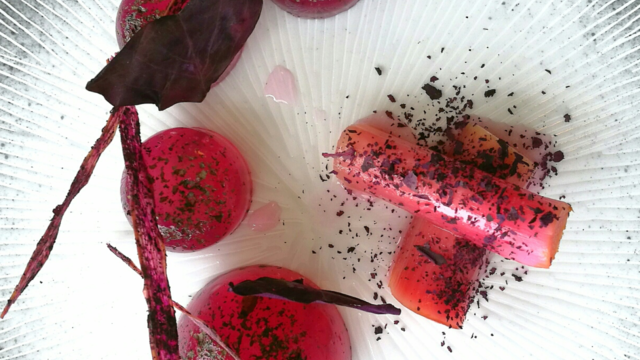 Yka Leaf & Rhubarb Pearls
,
The Staff Canteen
Source: The Staff Canteen
Vibrant, colourful & fresh tasting dessert focused on using the wonderful Yka Leaves in multiple forms.
Ingredients
1 punnet of Yka Leaves®
10 each Dehydrated Yka leaves 
1tbsp Yka Leaves Powder 
200ml Rhubarb Juice 
80g Caster Sugar
1.2gr Xanthan gum 
1.2gr Agar Agar
Firstly make the Yka Leaves syrup using the caster sugar and enough water to cover the sugar. Bring to a rapid boil and whisl in the fresh Yka Leaves® - pass through fine sieve.Mix 2/3rds of the syrup with the rhubarb juice and blend in the Agar Agar, strain off as many bubbles as possible then bring   up to around 90 degrees C.
Blend or whisk in the Xantham gum and pour in to a silicone mould to set. Serve with the dehydrate Yka Leaves, Yka Leaves powder & Yka Leaves syrup.
Source: https://www.thestaffcanteen.com/chefs-recipes/Yka-Leaf---Rhubarb-Pearls#/
Related recipes
Gastronomical masterpieces
Related products
Say yes to the cress