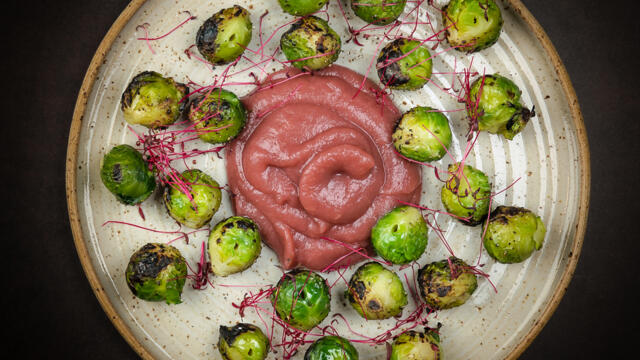 Brussels sprouts skewer on the bbq with apple-elderberry compote
,
Frank Fol – The Vegetables Chef®
Ingredients
(For 4 portions)
500 gr sprouts
2 stew apples
Elderberry syrup
Arqan argan oil
Cup of Scarlet Cress Koppert Cress
Mace powder - Verstegen
Black pepper - Verstegen
Smoked sea salt - Verstegen
4 skewers
Method
Brussels sprouts:
Clean and wash the sprouts. Put them in a bowl and drizzle some argan oil on top and season with black pepper, mace powder and sea salt.
Now prick the sprouts on the 4 skewers.
Grill on a low heat for 15 to 20 minutes. Turn over regularly so that the Brussels sprouts are nicely colored all over without burning.
Compote:
Peel, core and dice the apples.
Stew under the lid gently with 4 tablespoons of elderberry syrup.
When the apples are done, mix everything into a smooth compote.
To finish off:
Place compote in a jar or on a large plate in the center.
Remove the Brussels sprouts from the skewer and serve cold or warm for dipping.
Finish with some Scarlet Cress.
Recipe: Frank Fol - The Vegetables Chef®
Photo: Wim Demessemaekers, Photographer | @wim_dmskrs
Preparation time: 30 minutes 
Techniques: veggies 
Plate: Wild White Plate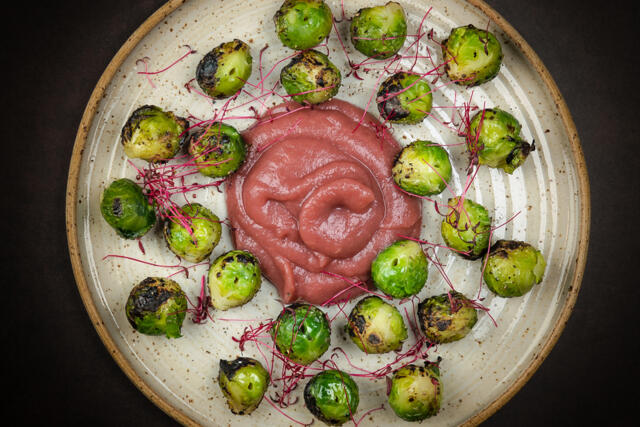 Related recipes
Gastronomical masterpieces
Related products
Say yes to the cress