Ingredients
For 4 portions
¼ punnet Ghoa Cress
½ punnet Zorri Cress
4 tsp Zorri Cress oil
1 medium cantaloupe melon
1 medium cucumber
4 slices spicy Chorizo
4 tbsp sour cream
juice from ½ lime
20ml olive oil 
Method
Peel, cut in half and deseed the cucumber and the melon. 
Using a peeler, make 4 portions by making some regular strips of both cucumber and melon and stacking them alternatively on top of each other (around 12 slices together), brushing the olive oil between each layer. 
Lay the slices of chorizo on a baking parchment paper and put them in a hot oven until they are crisp. Reserve the chorizo oil from the tray once done. 
Mix the sour cream and the lime juice. 
Dress the plate placing the cucumber and melon stack in the middle, add the sour cream, adding the drop of Chorizo oil and Zorri Cress oil, the crisp slice of Chorizo, the Ghoa Cress and Zorri Cress. You can also add a few slices of cucumber rolled up as the picture shows. 
To make some Zorri Cress oil, simply blitz together 100ml of grapeseed oil with one punnet of Zorri Cress. Pass the oil through a coffee filter overnight. 
Recipe: Franck Pontais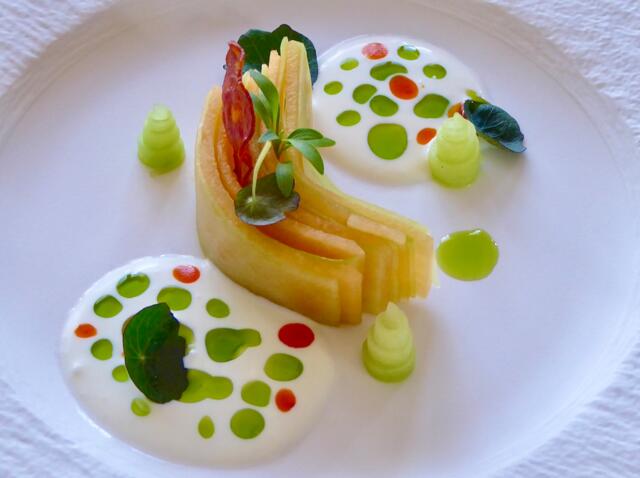 Related recipes
Gastronomical masterpieces
Related products
Say yes to the cress