Ingredients and method
Ingredients
Sweet Peeper
Shiitake mushrooms
Enoki mushrooms (brown and white)
Beech mushrooms
Sweet potato cream
Purple parsnip
Pumpkin
Coconut milk
Tahoon Cress oil (recipe)
Method
Blanch the parsnip.
Make a sweet potato cream.
Mix coconut milk with pepper and salt in a whipped cream dispenser.
Pipe sweet potato cream onto the plate.
Arrange the blanched purple parsnip on the plate.
Sauté the mushrooms separately with butter.
Artfully place the mushrooms upright in the puree.
Place Sweet Peeper in between the mushroom varieties.
Pour the pumpkin soup along the edge of the plate.
Spray coconut foam from the whipped cream dispenser over the soup.
Drizzle Tahoon Cress oil over the foam and soup
Add pepper and salt and serve immediately
Finish with loose Sweet Peeper leaves for the finishing touch.
Recipe: Eric Miete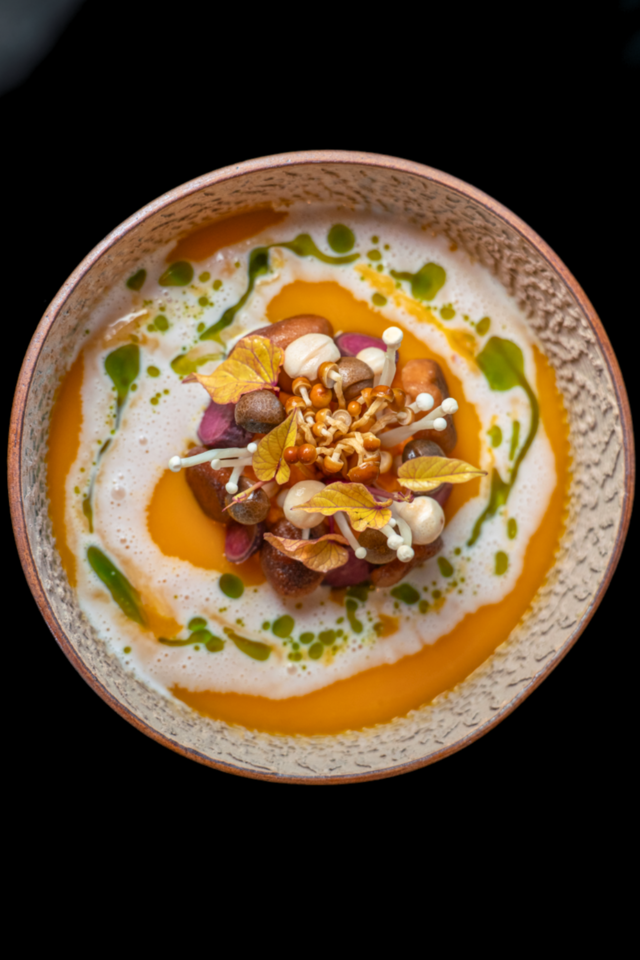 Related recipes
Gastronomical masterpieces
Related products
Say yes to the cress