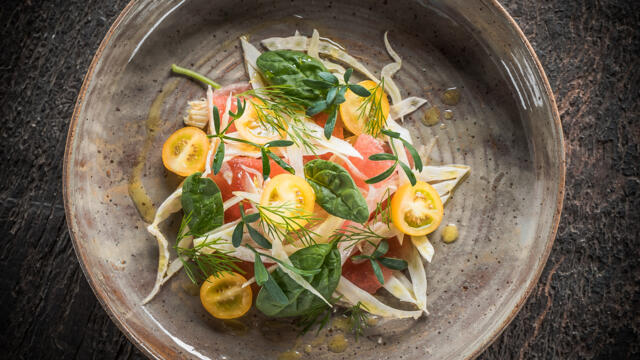 Open lasagna of watermelon, fennel carpaccio, dill, baby spinach, ricotta, yellow cherry tomato and lemon
,
Frank Fol – The Vegetables Chef®
Ingredients
(For 4 portions)
1 small watermelon without seeds 
1 small fennel 
2 sprigs of fresh dill 
Box of Sea Fennel
1 lemon 
12 yellow cherry tomatoes 
Handful of fresh baby spinach leaves 
strong dash of olive oil El Flamenco 
black pepper 
coarse sea salt 
Method
Fennel carpaccio: 
Cut the fennel paper thin with a sharp knife or plane. 
Season with black pepper and sea salt, as well as some lemon juice and a dash of olive oil. 
This may marinate for a few minutes. 
Carpaccio watermelon: 
Cut thin slices of watermelon and place them on a waiting plate. 
Finish: 
Build up the same amount of mixed fennel and watermelon carpaccio over the four plates. 
Cut yellow cherry tomatoes into slices and divide them between the fennel and the watermelon. Also some small spinach leaves. 
Spoon marinade juice over. 
Finish by dividing all the garnishes on the plates: dill and Sea Fennel pieces. 
Finish with a few drops of fresh lemon juice and tasty olive oil. 
Recipe: Frank Fol - The Vegetables Chef®
Photo: Wim Demessemaekers, Photographer | @wim_dmskrs
Preparation time: 15 minutes
Techniques: raw, marinating
Plate: Wild Moon large deep ceramic
Aangeraden drank: Ice tea (without added sugars)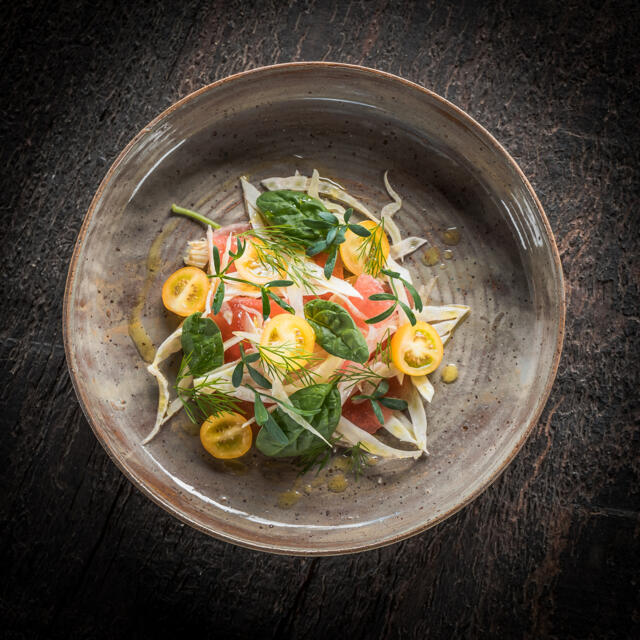 Related recipes
Gastronomical masterpieces
Related products
Say yes to the cress