Ingredients for 1100 grams
1200 g pigeon breast fillets
5 cloves garlic
3 sprigs rosemary
6 sprigs thyme
3 leaves bay leaf
16 g black peppercorns
16 g coriander seeds
4 pieces juniper berries
2 pods Planifolia Black Vanilla
60 g salt
as needed sunflower oil
Method
Beforehand, ensure there are no bullets remaining in the pigeon.
Trim the fillets where necessary and ensure they're thoroughly dry.
Blend the garlic, rosemary, thyme, bay leaf, black pepper, coriander seeds, juniper berries, Planifolia Black Vanilla seeds, and salt to create a brine.
Generously rub the pigeon with the brine and place in a vacuum bag. Seal well.
Marinate for 24 hours.
Rinse the fillets under ice-cold running water, then pat dry.
Quickly brown the pigeon fillets in a hot pan with a touch of sunflower oil. Ensure they remain undercooked!
Smoke the pigeon for 1 hour and 20 minutes, using a 50% oak smoke moth and 50% cherry wood smoke moth mix.
Vacuum seal the smoked fillets once more.
Cook the fillets sous vide at 56°C for 35 minutes. Rapidly cool in ice water.
Prior to serving, slice the pastrami using a meat slicer or by hand.
Serving suggestions
Delicious paired with brioche, liver parfait, and pine nut.
Perfect as part of an amuse bouche with red cabbage, cloves, and potato.
Combines well with components of parsnip, kale, and quince.
Recept: Gastronomixs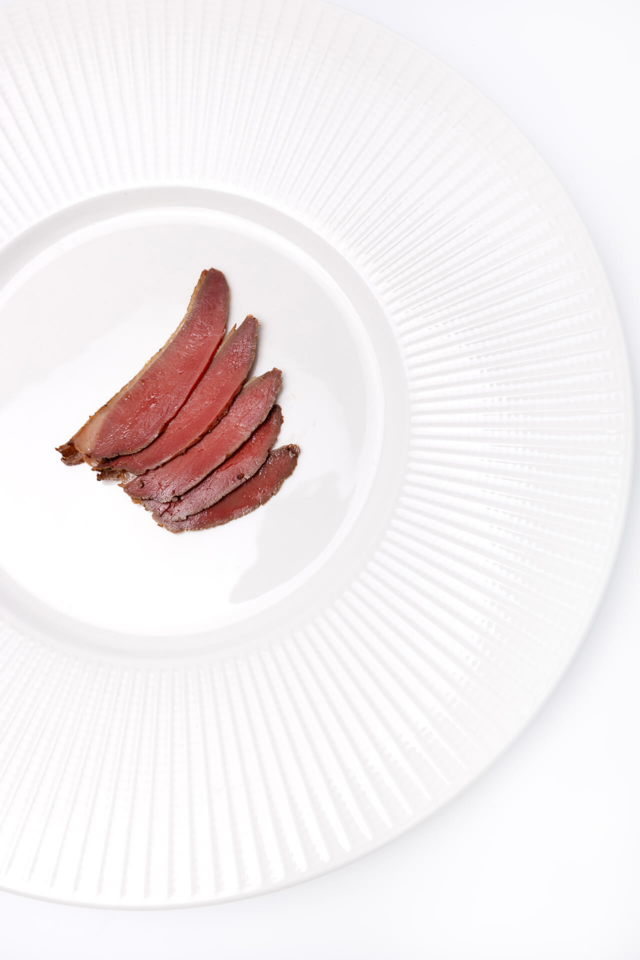 Related recipes
Gastronomical masterpieces
Related products
Say yes to the cress