Ingredients
(For 4 portions)
2 pieces of leek
100g cooked beetroot
1 ripe pear of your choice
4 tablespoons of black rice
bottle of Cornet - smoked
curry powder - Verstegen
Iluigi olive oil
1 cup of Scarlet Cress - Koppert Cress
Coarse sea salt - Verstegen
Method
Leek:
Clean and wash leek. May be placed whole on the fire without flames.
Slow cooking by turning every now and then. Can take up to 45 minutes.
Coulis:
Peel the pear and core it. Cut into pieces and gently simmer with a dash of olive oil and moisten with a good dash of the beer.
When the pear is cooked, mix everything together with the cooked beetroot (without the peel) to form a smooth, thickened sauce.
Season with little curry powder and sea salt.
Roasting the black rice:
Cook the rice until tender. Drain and then spread it open on a baking tray. Now let it dry in an oven at 120°C for 2 to 3 hours. Now have a metal slotted spoon and a paper towel ready.
Now roast the dried rice in a pot with about 3 cm groundnut or rice oil. You can check the temperature of the hot oil by throwing in a grain as a test, if it pops up, you can add all the rice. This happens very quickly. It is ready in a few seconds and you scoop out all the rice grains and put them on the kitchen paper. Season with a little salt. You can also buy puffed rice if this is more convenient.
To finish off:
Cut large pieces of the leek. Cut it in half and place warm on each plate. Spoon some sauce on the side.
Finish with the puffed rice, scarlet cress and sprinkle some extra curry powder over the preparation.
Recipe: Frank Fol - The Vegetables Chef®
Photo: Wim Demessemaekers, Photographer | @wim_dmskrs
Preparation time: 45 minutes 
Techniques: veggies 
Plate: Wild White Plate (L)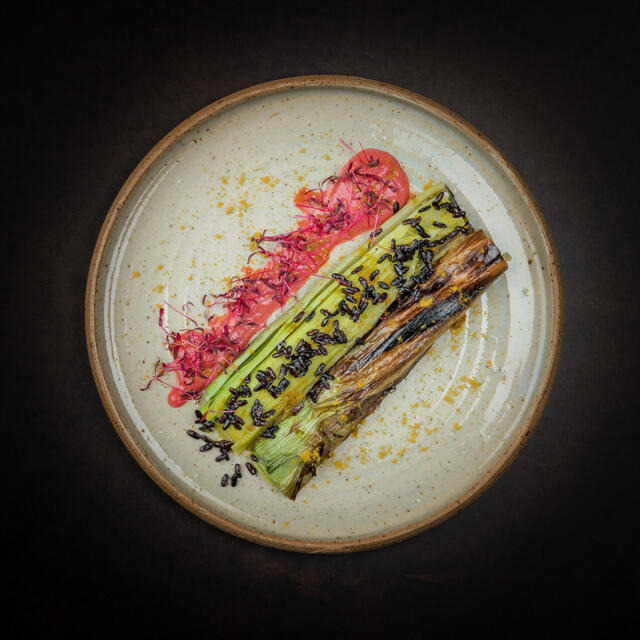 Related recipes
Gastronomical masterpieces
Related products
Say yes to the cress