Ingredients
(For 4 portions)
Sechuan Buttons sugar:
8 Sechuan Buttons 
300gr caster sugar
Sechuan Buttons shortbread: 
200gr unsalted butter
100gr Sechuan Button sugar
200gr plain flour
Sechuan Buttons frozen souffles:
50gr Sechuan Buttons sugar
30gr lemon juice
100ml water
150ml double cream
3 egg whites
3 small gelatine leaves
Method
Sechuan Buttons Sugar:
Remove the top (small green part) of the Sechuan Buttons.
Place the sugar in a high-speed blender and blitz with the Sechuan Buttons.
Keep the sugar until use. 
Sechuan Buttons shortbread:
Mix together until you get a dough, do not overworked and rest for 2 hours. 
Cook in small silicon mould in an oven at 180℃ for 8 to 10 minutes. 
Let cool down and reserve.
Sechuan Buttons frozen souffles:
Prepare the ramekins by adding strip of non-stick paper around them (at least 3 cm above the ramekin rim). I hold mine into place with a small elastic band. 
Soak the gelatine leaves in cold water. 
Using a small saucepan, bring to boil the water, lemon juice and sechuan button sugar. 
Squeeze the gelatine leaves to remove the excess of water and add them to the mix. 
Whisk the gelatine until completely dissolved, remove from the heat and let cool down. 
Whip the cream to a soft pick consistency and fold the Sechuan Button and lemon mix gently into it. 
Whisk the egg whites until soft pick and fold into the cream mix. 
Using a piping bag, fill the ramekins with the mix and let set or place them in the freezer. 
This "souffle" could be eaten frozen or very cold. 
Sprinkle some Sechuan Buttons on top of the souffle and serve with the shortbread biscuit. 
Recipe: Franck Pontais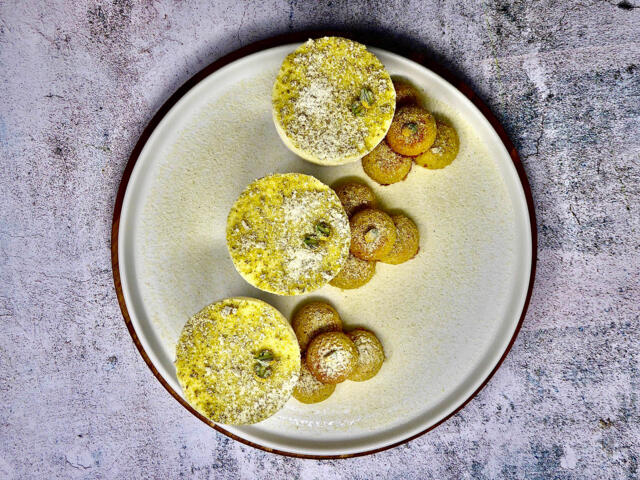 Related recipes
Gastronomical masterpieces
Related products
Say yes to the cress