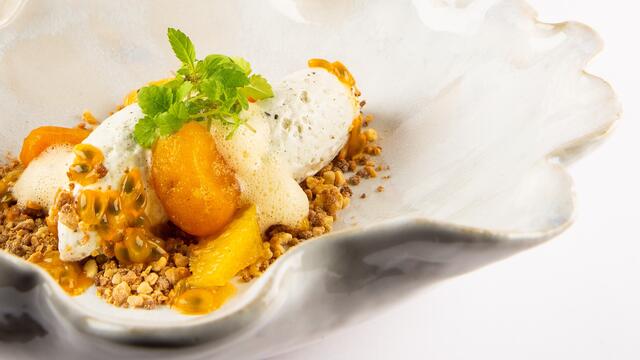 White chocolate, kumquat, orange and passion fruit
Ingredients
Chocolate mouse:
100gr of white chocolate
1 protein
150g cream
25g of sugar
1 Planifolia Black - Vanilla
½ lemon peel
Chocolate crumble:
Pickled kumquat:
6 kumquats
200ml vanilla syrup
Orange wedges:
½ orange
Sabayon:
1 bottle of URB Shanghai
yolk
kumquat sugar water
Panifolia Black - Vanilla
Garnish:
1 pack of Mellisa Cress
1 pack of Acla Cress
2 passion fruit
Method
Prepare mousses from white chocolate, Dutch Vanilla, egg white, cream and lime zest.
Set aside for later.
Bake the white chocolate on a silicone mat in the oven at 160°C for 10 minutes until light brown.
Then chill in the blast freezer and finely grind in the thermomixer.
Heat the vanilla syrup to boiling point. Pierce the kumquat and add to the vanilla syrup and leave for over 30 minutes. Leave to cool.
Cooled sabayon au bain-marie and mix in a food processor.
Then decorate Melissa Cress, Aclla Cress and passion fruit.
Pour the ice-cold URB Shanghai into a V-shaped glass and garnish with half a passion fruit and Aclla Cress. Everything together creates an interesting combination.
Recipe: Eric Miete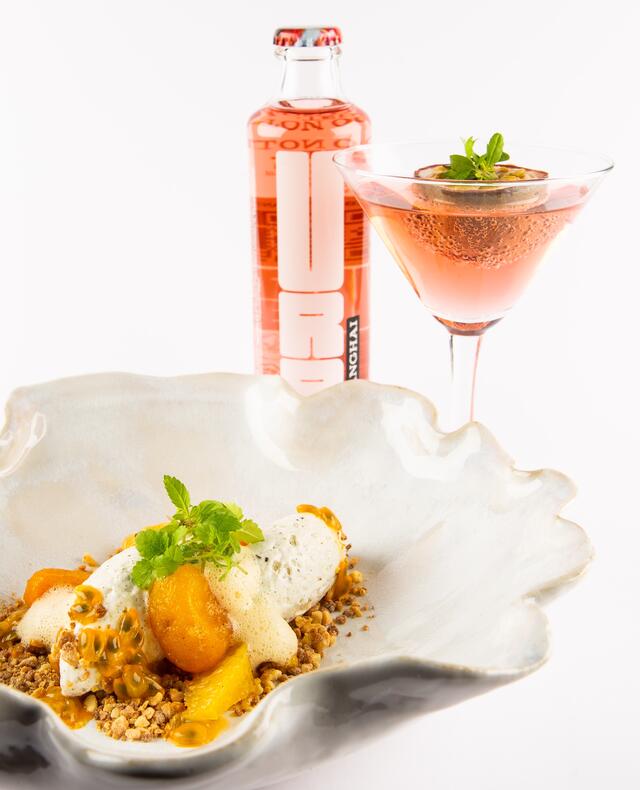 Related recipes
Gastronomical masterpieces
Related products
Say yes to the cress