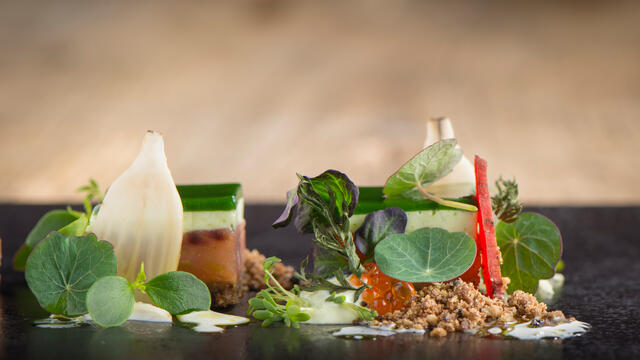 Salmon trout in green
Marcel Fischer is a versatile chef, lost to his Thuringia and her rich eating traditions. The cresses are an obvious extension of this for him.
Ingredients
grated horseradish
boiled beet slices
trout eggs
Hippo Tops
Tahoon® Cress
Zorri Cress
Mustard Cress
For the salmon trout:
1 salmon trout fillet
50 g of salt
50 g of sugar
1 cup of cress
10 g fresh horseradish
For the cream of cress:
250 g sour cream
1 cup of Mustard Cress
10 stems Hippo Tops
2 leaves of gelatin
5 cl olive oil
1 lemon
salt
pepper
sugar
For the cress jelly:
2 bowls of Mustard Cress
2 cups of Wheat grass
400 g of celery
1 cucumber
4 leaves of gelatin
salt
pepper
Haco weiss
For the edible soil:
3 slices of pumpernickel
40 g of olive oil
thyme
salt
pepper
For the cress vinaigrette:
2 bowls of Mustard Cress
2 cups of Wheat grass
5 cl of herbal vinegar
6 cl olive oil
1 tsp mustard
1 tsp honey
salt
pepper
5 cl buttermilk
Method
Prepare the salmon trout fillet and place in the aromatics overnight. Wash well and cut into squares.
Blender for the crème the cress, lemon juice and olive oil smooth and mix with 200 g sour cream.
Dissolve the gelatin in the remaining sour cream and mix in the first mass. Season and reserve cool.
Centrifuge all the components for the jelly, dissolve the gelatin and the Haco weiss in it and deposit on a plate.
Make a tart from the salmon trout, the cream and the jelly and trim square.
For the earth, fry the crumbled pumpernickel with the chopped thyme in the oil and season.
Blender all ingredients for the vinaigrette. Dress three cakes on the plate, spray the cream on top and garnish generously with the other components.
Finally, add the vinaigrette.
***
Spa & Golfresort Weimarerland
Weimarer Str. 60, Blankenhain
Tel. 0049 36459 61640
www.golfresort-weimarerland.de
Recipe: Marcel Fischer
Source: Culinaire Saisonnier 88 - Spring 2018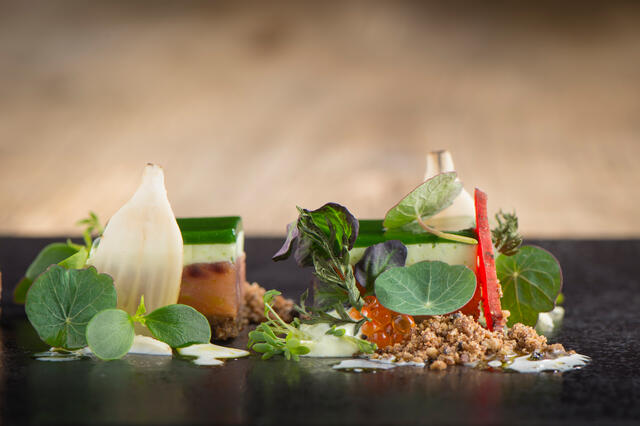 Related recipes
Gastronomical masterpieces
Related products
Say yes to the cress