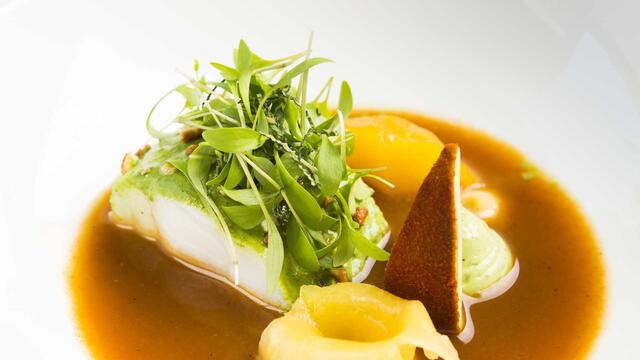 Monkfish, tandoori, pineapple, mango
Anton Schmaus aims for a kitchen that respects the hinterland and produces simple yet perfectly prepared dishes.
Ingredients
1 avocado
tomato powder
tandoori broth
Persinette® Cress
Ghoa Cress®
4 monkfish slices of 80 g each
For the mango:
1 unripe mango
1 lemon
1 tsp cinnamon powder
1 cinnamon stick
2 tbsp flower honey
1 mp salt
For the pineapple:
1/4 pineapple
1 tbsp tandoori paste
50 g beurre noisette
1 tsp cumin seeds
30 g of honey
30 g of sugar
1 dl lemon juice
For the herbal cream:
2 tbsp Greek yoghurt
30 g of mint leaves
30 g Persinette Cress
30 g of Ghoa Cress
For the tandoori cashew nuts:
50 g cashew nuts
20 g of sugar
10 g of tandoori powder
For the cream of avocado:
2 avocados
5 bowls of Persinette Cress
salt
pepper
juice of 1 lime
100 g of olive oil
1 tbsp white balsamic vinegar
Method
For the mango, bring the lemon juice with the spices and the honey to a boil and reserve warm. Peel the mango, halve it and divide each half into 6 segments.
Vacuum the mango with the warm marinade and infuse at room temperature.
For the pineapple, make a caramel of the sugar and honey, deglaze with the lemon juice, cumin, butter and tandoori paste and let it steep for 5 minutes.
Peel the pineapple, cut into quarters, remove the centrepiece and vacuum with the warm marinade. Cook the pineapple in a 56°C water bath for 2 hours.
Blend all ingredients for the herbal cream into a smooth paste and reserve cool. Roast the cashew nuts until golden brown, make a caramel of the sugar, add the nuts and the tandoori powder and let cool on baking paper.
Blend all the avocado cream ingredients until smooth, season with salt and pepper and reserve cool. Cook the monkfish for 10 minutes in a 55°C water bath.
Serve the monkfish in a deep plate and spoon the herb cream on it. Cut a slice out of a ripe avocado and pass the rounded side through the tomato powder.
Thinly slice the pineapple and mango, make rolls and serve with the warm fish. Garnish the dish with the cresses, the avocado cream and the tandoori nuts and finally add the warm tandoori stock.
***
Storstad
Watmarkt 5, Regensburg
Tel. 0049 9415 999 30 00
www.storstad.de
Recipe: Anton Schmaus
Source: Culinaire Saisonnier 81 - Summer 2016
Related recipes
Gastronomical masterpieces
Related products
Say yes to the cress