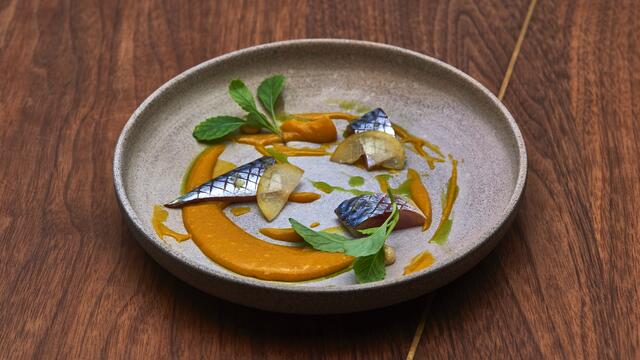 North Sea Mackerel, Piccalilly, Atsina Cress
Alex Haupt: "We absolutely love mackerel, it's nutritious, delicious and delicate."
Ingredients
salt flakes
fermented slices of green plum
wild garlic oil
wasabi leaf
gellan
sake vinegar
For the mackerel:
mackerel fillets
White wine vinegar
fine salt
For the piccalilli gel:
9 g turmeric powder
3 g curry powder
300 g large pickles
1/2 cucumber
225 g raw silver onions
300 g of sake vinegar
1.5 l chicken stock
For the mayonnaise of Atsina Cress and seaweed:
50 g of protein
50 g goat yoghurt
30 g konbupasta
2 g of salt
180 g of seaweed oil
90 g of Atsina® Cress oil
Method
Remove the bones from the mackerel and place in white wine vinegar with the skin side for 15-20 seconds.
Carefully remove the skin on the skin side and cover the meat side with some fine salt 2 hours before cutting. Smooth the skin and cut the mackerel into finger-thick slices.
For the gel, bring all the ingredients to a boil. Remove from heat and infuse overnight cool. Take 750 g of the mass, blender at 95°C and add 7.5 g of gellan.
Blender at highest speed for 3 more minutes, pass through a sieve and cool to 5°C.
Let set and blender smooth in 8 minutes. Pass through a sieve. Make an emulsion of the ingredients for the mayonnaise, pass through a sieve and finish with sake vinegar.
Spoon the piccalilli onto a plate, rub the mackerel skin with olive oil and season with the salt flakes and the plum slices.
Finish with the mayonnaise, wild garlic oil and the wasabi leaves.
***

Restaurant 101 Gowrie

Govert Flinckstraat 326HS
1073 CJ Amsterdam
www.101gowrie.com
Recipe: Alex Haupt
Source: Culinaire Saisonnier 94 - Fall 2019
Related recipes
Gastronomical masterpieces
Related products
Say yes to the cress