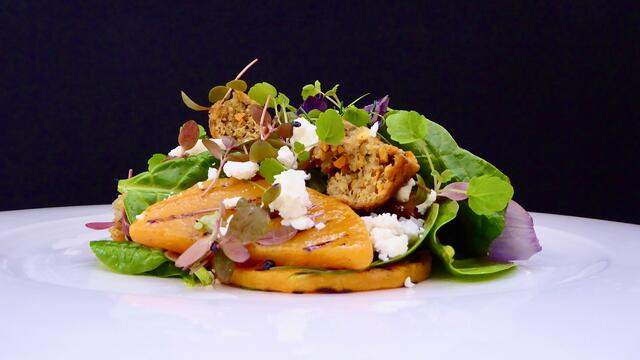 Grilled butternut squash, spinach, feta and falafel
,
With Adji Cress and Atsina Cress
Ingredients
(For 4 portions)
100g butternut squash
1 medium sized red onion
100 g feta cheese (crumbled)
80g baby spinach leaves
120g sweet potato falafel 
Juice of ½ lemon
1 punnet Atsina Cress 
1 punnet Adji Cress 
2 tbsp olive oil   
Method
Peel and slice the butternut squash.
Peel and cut the red onion into wedges. 
Steam cook (or blanch in salty water) the butternut pumpkin and red onion.
Place a griddle pan on the stove and grill the onions and squash in a bit of olive oil. 
Mix all the ingredients in a bowl, add the freshly cut cresses, add the olive oil and lemon juice and fold gently.
Serve
Nutritional information:
Adji Cress and Atsina cress are used as seasoning as this recipe involves no salt. 
Feta cheese is naturally salty and therefore helps to balance the dish.
Recipe: Franck Pontais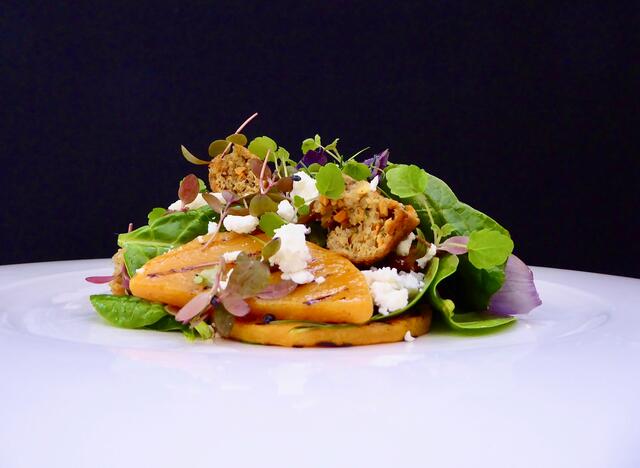 Related recipes
Gastronomical masterpieces
Related products
Say yes to the cress