Ingredients
For 4 portions
2 punnets Melissa Cress
300gr red radish
1 medium red apple
8 tsp Melissa Cress oil
a drizzle of honey
½ tsp cider vinegar
2 tbsp pumpkin seeds
Method
Slice all the radish with a mandolin and make 4 circles with the slices as the picture shows. 
Make the dressing with 4 tsp of Melissa Cress oil, the drizzle of honey and the cider vinegar. 
Deseed and slice the apple into fine wedges and mix them with the rest of the sliced radish, pumpkin seeds, dressing and the freshly cut Melissa Cress. 
Fold the salad gently and place carefully in the centre of each four rings. 
Remove the ring and serve with the 4 tsp of Melissa Cress oil left over. 
To make some Melissa Cress oil, blitz together one punnet of Melissa Cress with 100ml of grapeseed oil. Pass through a coffee filter overnight to obtain a clear and flavoursome oil.  
Recipe: Franck Pontais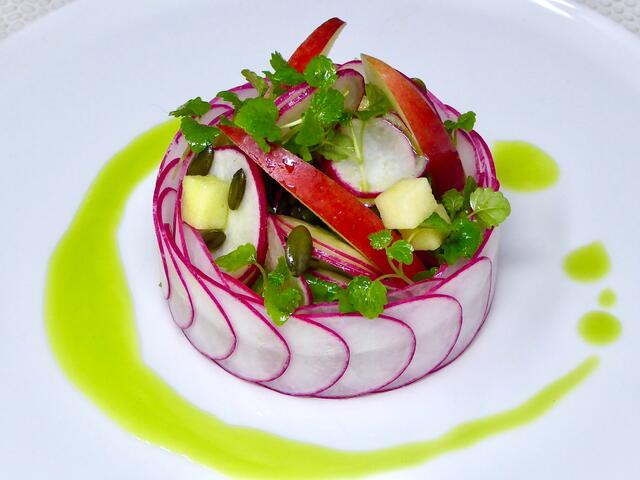 Related recipes
Gastronomical masterpieces
Related products
Say yes to the cress