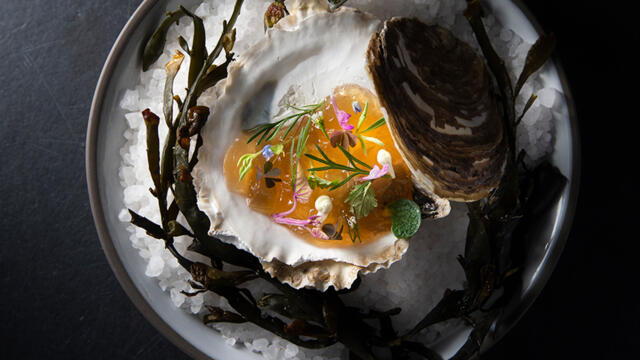 Oyster
Torben Schuster: "I prefer to cook what I like and especially with the cold dishes I sometimes want to bring some theatre to the plate, although always functional."
Ingredients
Paztizz Tops®
Lupine Cress
Melissa Cress
Sweet Pepper
blazing fast
dead-nettle blossom
flat oysters
For the oyster cream:
4 oysters
100 g of protein
100 g yoghurt
500 g of vegetable oil
salt
cayenne pepper
lemon juice
For the spinach:
Spinach
dashi broth
soy sauce
For the tosa vinegar jelly:
12 dl dashi stock
15 cl white soy
3 dl rice vinegar
3 dl mirin
12 leaves of gelatin
Method
Open the oysters and mix the meat with yoghurt and egg whites. Add the other ingredients and make the cream in the blender.
Season with cayenne, salt and lemon juice. Wash the spinach with the stems still on it and blanch briefly. Vacuum the spinach with the dashi and the soy and let it rest for 12 hours.
Bring all the ingredients for the jelly to a boil and dissolve the gelatin in it. Put the jelly cold and beat with the whisk.
Dress the cream in the oyster shell, put some spinach on top and then the oyster. Cover with the jelly and garnish with the cress and spices.
***
Restaurant Gut Lärchenhof

Hahnenstraße 1, Pulheim, Duitsland
T 0049/2238 9231016
www.restaurant-gutlaerchenhof.de
Recipe: Torben Schuster:
Source: Culinaire Saisonnier 93 - Summer 2019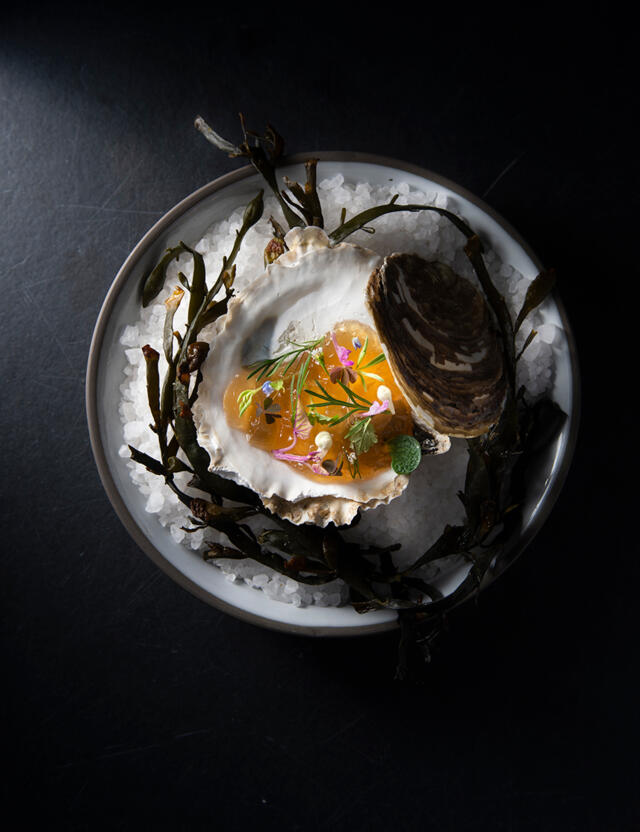 Related recipes
Gastronomical masterpieces
Related products
Say yes to the cress