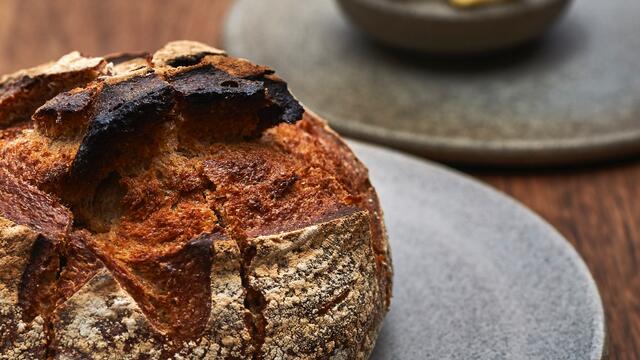 101 bread, kefir butter, Adji Cress
Alex Haupt: "Bread and butter are the most essential things in a restaurant. This reflects the ability of a chef and his kitchen. That is why we make our own bread. It tells our story that's what the guests taste."
Ingredients
500 g of water
150 g of mother dough
475 g of white flour
130 g whole wheat spelled flour
130 g whole wheat rye flour
15 g of salt
75 g of water
200 g of Adji Cress
For the kefir butter:
2 l unpasteurized cream
10 g of milk kefir granules
20 g tops of Adji Cress
Method
For the bread, heat 500 g of water to 32°C, place in a bowl with the mother dough, the chopped Adji Cress and the flour and mix on low speed.
Leave to rest for 45 minutes, add salt and the 75 g of water and mix. Leave covered in a separate container for 30 minutes, fold the bread and leave to rest for 30 minutes.
Repeat this 2 more times. Portion the bread into 350g pieces, shape and let rest on the work tray for 30 minutes.
Flour the molds with a mixture of 50% flour and 50% rice flour and fill with the dough. Let cool overnight.
Bake the loaves in the oven at 270°C for 21 minutes, then reduce the temperature to 220°C and bake for 19 minutes with a core temperature of 99°C for the bread.
Rest on a rack for processing. Pour the cream into a container and place the grains in a cloth in the cream with the chopped Adji Cress.
Leave for 48 hours, remove the cloth with the kefir. Remove the solid mass from the container and wash the "buttermilk" under clean water until the water is clear.
Squeeze all the liquid from the solid mass and season with 2% salt. Before serving, heat the bread in the oven at 180°C for 15 minutes and serve the butter at room temperature.
***
Restaurant 101 Gowrie
Govert Flinckstraat 326HS
1073 CJ Amsterdam
www.101gowrie.com
Recipe: Alex Haupt
Source: Culinary Saisonnier 94 - Fall 2019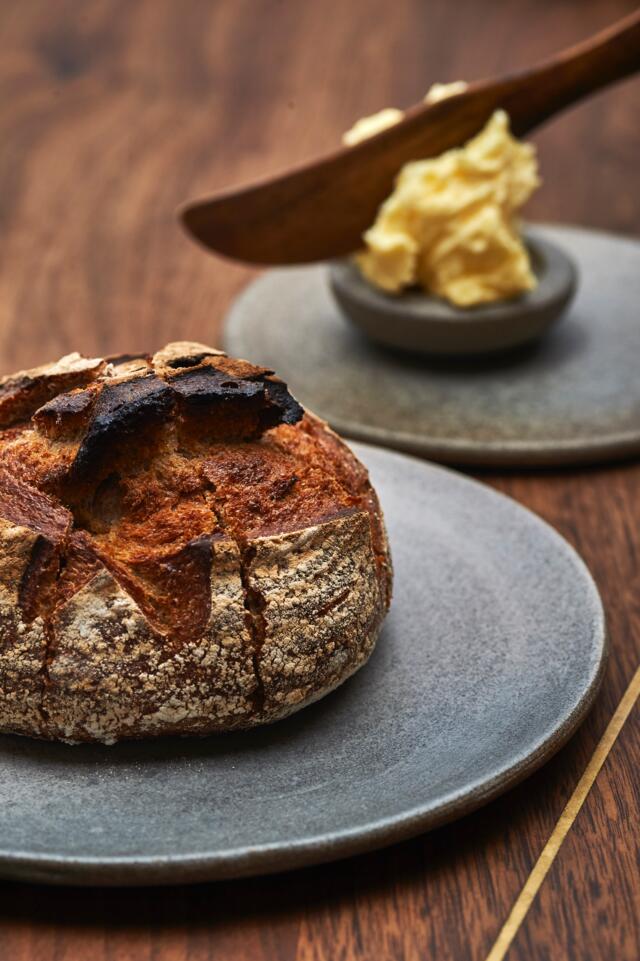 Related recipes
Gastronomical masterpieces
Related products
Say yes to the cress