Ingredients
(For 3 tacos)
½ punnet Adji Cress
½ punnet Atsina Cress
½ punnet Sakura Cress
60gr diced red onions
80gr diced tomatoes
90gr cooked sweet corn
10gr diced red chilli
½ avocado
½ lemon juice
1 tbsp olive oil
3 tortilla bread (12 to 15cm across)
Method
Burn the tortilla bread slightly on a hot grill pan to add a smoky flavour to it. 
For the salsa, using a mixing bowl, fold together the diced red onions, diced tomatoes, red chilli, sweet corn, lemon juice and olive oil. 
Peel and slice the avocado. 
Fold the freshly cut cresses together gently. 
Fill the tacos with the salsa and avocado and divide the aromatic cress salad on top of each one. 
Recipe: Franck Pontais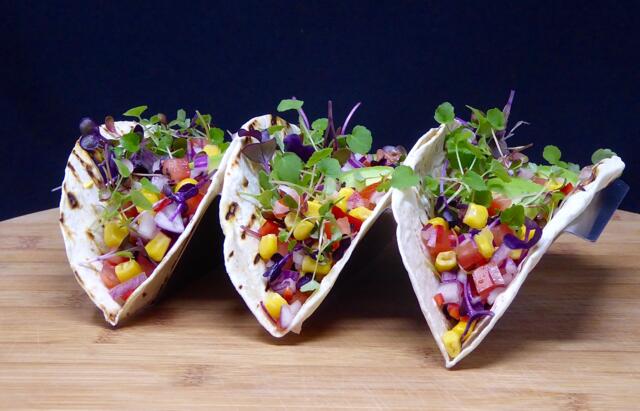 Related recipes
Gastronomical masterpieces
Related products
Say yes to the cress