Eifeler deer in tramezzini cloak with truffle gravy and Motti Cress
Grischa Herbig just cooks what he likes. Where the environment has no limit, so does his kitchen.
Ingredients
tramezzini
Motti Cress
Brussels sprouts
venison fillet
truffle gravy
For the farce:
500 g cubes of chicken breast
100 g mushroom stock
100 g of cream
50 g portobello mushrooms puree
6 g of salt
pepper
3 g finely chopped thyme
5 g of trumpet de la mort powder
For the fermented red cabbage:
Red cabbage
salt
maple syrup
pepper
For the brown bundle mushroom:
560 g brown bundle mushroom
mineral water
20 g of salt
15 g apple cider vinegar
35 g of soy sauce kalamansi flavored
1 g of fennel seeds
3 sprigs of tarragon
20 g of ferment
For the shimeji mushroom:
560 g shimeji mushroom
mineral water
20 g of salt
15 g apple cider vinegar
50 g of maple syrup
5 g of fennel seeds
1.5 g peppercorns
6 juniper berries
4 bay leaves
5 sprigs of thyme
20 g of ferment
For the fried nameko mushrooms:
nameko mushrooms
sherry
butter
pepper
salt
For the cold-stirred cranberries:
350 g of sugar
1 kg of cranberries
wafer-thin ginger slices
orange zest
For onion crumble:
chopped onions
brown butter
chopped parsley
chopped tarragon
Motti Cress
salt
pepper
mace
Method
Vacuum the venison back fillet, steam at 100°C for 5 minutes, let it rest and cook at 70°C for 30 minutes with 70% steam.
Mix all the ingredients for the farce, freeze in paco or frix cups and turbine twice. Coat the roe with the farce, roll in the thinly rolled tramezzine bread and fry.
Give cuisson in the oven. Centrifuge the red cabbage and reserve the solid. Add 2% salt, vacuum and allow to ferment at room temperature.
Increase the weight of the nameko mushrooms with water to 1 kg, mix all ingredients, vacuum, infuse at room temperature for 24 hours and then reserve cool.
Repeat the same with the shimeji mushrooms. Fry the mushrooms in butter, finish and glaze with some sherry.
Mix all the ingredients for the cranberries, reserve cool and stir regularly. Fry the onions all around brown and mix coarsely with some nut butter.
Add chopped herbs 3:1 and season. Dress all components on the plate and garnish with Motti Cress.
***
Restaurant La societé

Kyffhäuserstraße 53, 50674 Köln, Duitsland
Tel. 0049 221 232 464
www.restaurant-lasociete.de
Recipe: Grischa Herbig
Source: Culinaire Saisonnier 92 - Spring 2019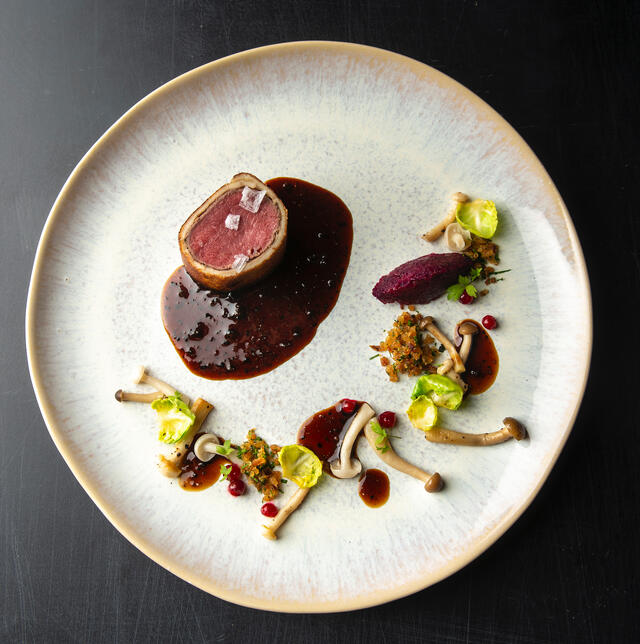 Related recipes
Gastronomical masterpieces
Related products
Say yes to the cress