Ingredients
(For 4 portions)
4 pieces Floregano
1 punnet Honny Cress
2 pieces Shiso Leaves Green
1 small pineapple
12 physalis
2 passion fruits
4 small pinches dried rose petals
4 fine slices stollen cake
100gr light brown sugar
1 tbsp salty caramel crumbles
water 
Method
Cut the Shiso Leaves Green in half. 
Peel and cut the pineapple into 4 wedges, remove the core (the hard part) and cover them with the light brown sugar. 
Roast the pineapple pieces in a hot oven for 15 minutes and finish the process with a blow torch to add a smoky flavour. 
Make a syrup with the rest of the sugar and water and dip the physalis into it. 
Roll 4 physalis into the salty caramel crumble. 
Serve with the seeds of the passion fruits, rose petals, Floregano, freshly cut Honny Cress, half of Shiso Leaves Green and the fine slice of stollen cake.
Recipe: Franck Pontais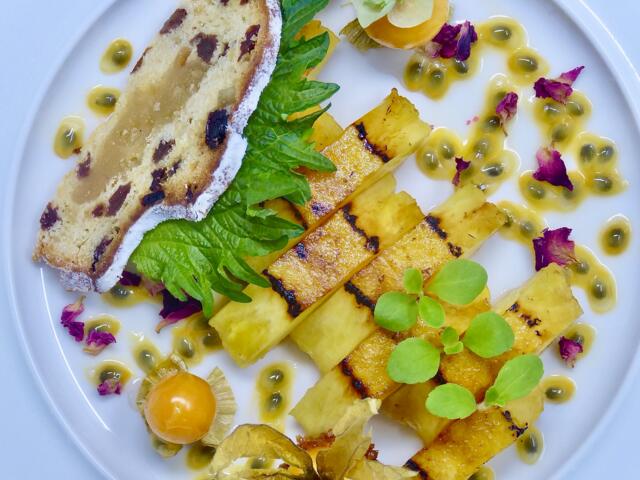 Related recipes
Gastronomical masterpieces
Related products
Say yes to the cress