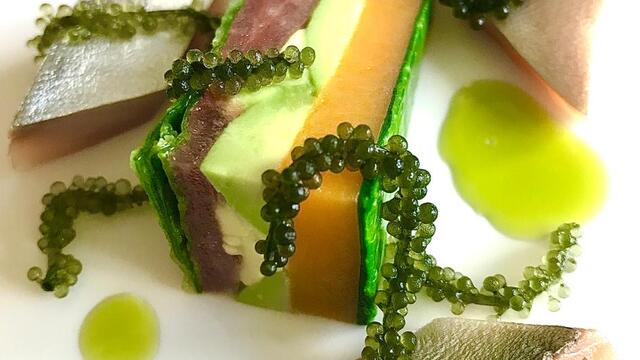 Pressed vegetable terrine and cured fresh mackerel
,
Moai Caviar
Franck Pontais: "4 portions. You'll need 20 pieces of Moai Caviar for 4 portions, those make an ideal food pairing, not only for the taste but also with texture and appearance."
Ingredients
Pressed cold vegetable terrine
Butternut squash ½ each
Ripe vine tomatoes 400gr
Ripe avocado 1 large or 2 smalls
Spinach leaves 50g
Basil oil 3 tbsp
Salt and pepper
Cured mackerel
Fresh Mackerel filet 1 medium.
Salt 100g
Caster sugar 20g
Lemon zest 1 lemon
Method
Pressed cold vegetable terrine
Peel and slice the butternut squash into pieces of 0,5 cm thickness, blanch cook in water, refresh and leave aside on a of absorbent paper until use.
Blanch, peel cut into 4 and deseed the tomatoes.
Peel the avocado and cut into wedges.
Using a small terrine mould (or even a tart circle ring).
Lay some cling film or parchment paper in the mould then lay the spinach leaves at the bottom, brush with basil oil, add a pinch of seasoning.
Lay the avocado wedges, brush with basil oil again and add a pinch of seasoning, repeat the operation with the tomato and finish with the rest of the spinach leaves.
Cover with the clingfilm and press overnight, keep in the fridge.
Once cold and set, slice with a serrated knife.
Cured mackerel
Mix together the salt, sugar and lemon zest.
Cover the filet of Mackerel, making sure that the curing goes on both sides.
Leave to cure for 30 minutes max, rinse under clear water.
Cut into size.
Serve the Pressed vegetable terrine with the rest of the basil oil, the cured Mackerel and the Moai Caviar.
Enjoy !
Related recipes
Gastronomical masterpieces
Related products
Say yes to the cress