Ingredients
Grilled Milk Fish 
Red Cabbage Chutney  
Apple Blossom 
BlinQ Blossom 
Floregano
Bean Blossom 
Sechuan Buttons 
Seaweed Crisp 
Borage Cress
Shiso Purple
Rucola Cress
Grilled milk fish:
500 gms Fish (I have used milk fish, it will be better with King fish, Pomfret also) 
2 tbsp vegetable oil 
1 nos tomato  
1" ginger 
2 clove garlic 
100 gms raw mango 
1 tbsp black pepper 
1tsp fennel seeds. 
2 tbsp lemon juice 
Maldon rock salt/normal salt to taste 
1 string curry leaves 
Method
Blend all the ingredients together other than fish in a blender.  
Rub the marinades into the fish and keep in refrigerator for a minimum of 2 hours. 
Grill the fish in a heated pan until it's cooked.  
Purple cabbage chutney 
Heat 2 tsp oil in a pan.
Add 2 tsp chopped ginger and 2 green chilli chopped, then sautéd.
Keep the fire on high flame.
Add 2 cup sliced purple cabbage.
Add a dash of vinegar.
Adjust the seasoning.
Tip: Don't cook the cabbage for a long time. It should be on high flame and quick. Red cabbage also contains anthocyanin molecules that turn from red to blue-green in an alkaline environment. To keep the beautiful colour of red cabbage, make sure there is also an acidic ingredient in the recipe. Vinegar will do the role. 
Recipe: Jomon Kuriakose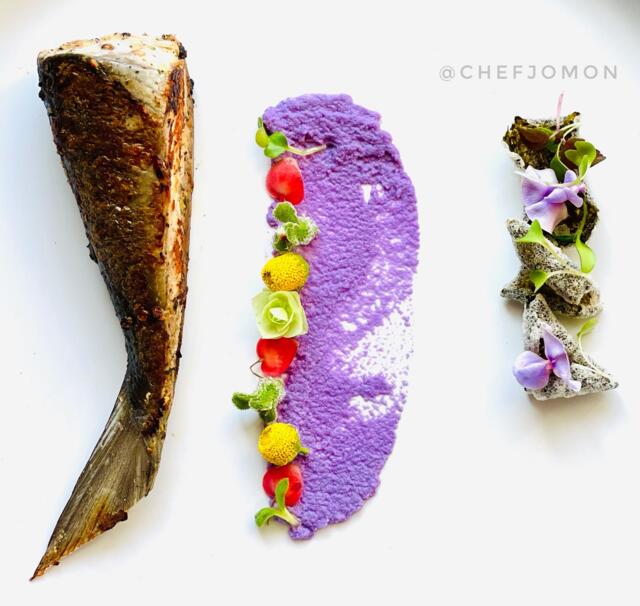 Related recipes
Gastronomical masterpieces
Related products
Say yes to the cress