Ingredients
Jasmine ice cream:
580g milk 
70g sugar 
180g cream 
80g milk powder 
1 g Maldon salt 
8 pieces of fresh Jasmine Blossom 
Blueberry reduction: 
Jasmine oil:
100g neutral oil 
4 Jasmine Blossom 
Meringue platters:
100g egg white 
175g sugar 
citric acid 
blueberry reduction 
Jasmine Blossom or Jasmine Blossom syrup 
Furthermore:
fresh Jasmine Blossom 
Yka Leaves 
fresh wild blueberries 
Method
Jasmine ice cream:
Bring the milk with the sugar and the Jasmine Blossoms to the boil and let it steep for about 1 hour. Then strain the milk and bring to the boil with the remaining ingredients. Pour the mixture into a Pacojet and freeze and mix. 
Blueberry reduction: 
Bring the blueberry juice to the boil and then slowly reduce it until it is slightly thick. Gives consistency. !Be careful, if you reduce too quickly and too far, the sugar in the juice can caramelize and the fresh taste is lost! 
Jasmine oil:
Vacuum the oil and flowers and let them steep in the sous vide basin at 70°C for 3 hours. 
Meringue platters:
First boil sugar syrup (1:1, sugar: water), with the Jasmine Blossoms. Mix egg white and sugar and heat over a water bath until the sugar dissolves, then beat cold halve the mixture and mix one half with a little blueberry reduction, the other half with jasmine sirop. Season to taste with jasmine syrup and half a teaspoon of citric acid. Spread on a Silpat mat and leave to dry for 1 to 1.5 hours at 90°C. 
Recipe: Sandra Scheidl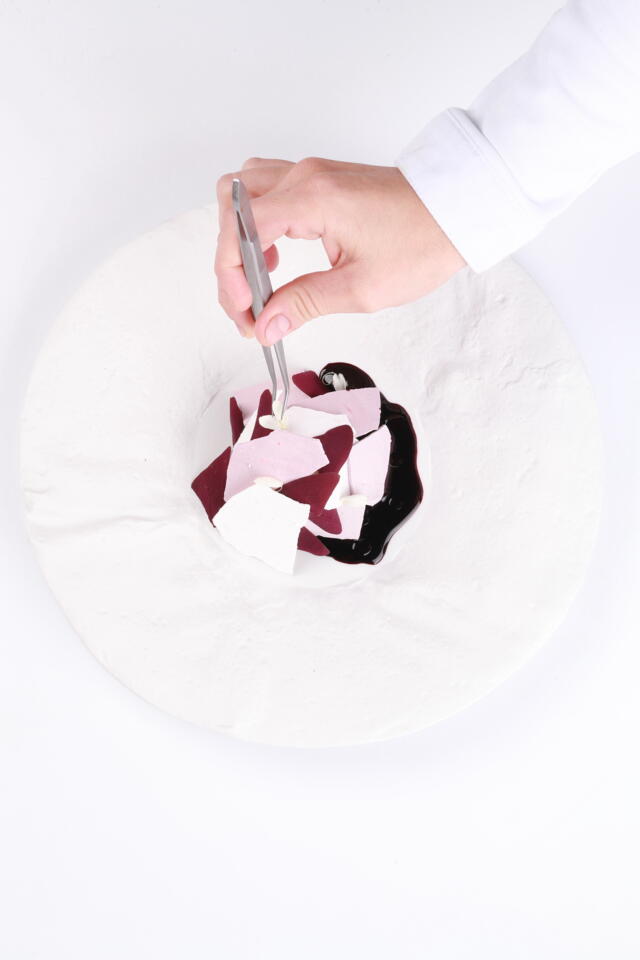 Related recipes
Gastronomical masterpieces
Related products
Say yes to the cress