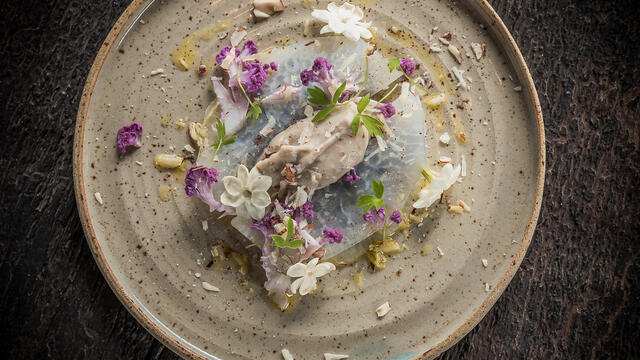 Koolrabi ravioli, paarse bloemkool met hazelnoot en Jasmine Blossom
,
Frank Fol – The Vegetables Chef®
Ingredients
(For 4 portions)
1 large kohlrabi
1 small purple cauliflower
1 shallot
60 gr hazelnuts
150 gr bio Légumaise Périgord - mushrooms with truffle
Rapeseed oil Arqan argan oil
Jasmine Blossom
Black pepper Coarse sea salt
Method
Ravioli:
Peel the kohlrabi. Cut in the middle.
Use a skimmer to make 8 very thin round slices (as big as possible) of 1 mm thick.
Put the ravioli one by one for 30 seconds.
in boiling water with some coarse sea salt, remove with a skimmer and cool in cold water.
Tartar:
Cut the leftover of kohlrabi, shallot and 200 gr cauliflower into a tartar.
Braise in a bit of rapeseed oil until crispy. Season with sea salt and pepper.
Fill each ravioli with warm tartar and place on a large plate.
Now put them briefly in the microwave.
to reheat it a little.
Garnishes:
Chop the hazelnuts.
Cut raw slices of the remaining purple cauliflower.
To finish off:
Place 2 warm ravioli on each (hot) plate.
Spoon some hot légumaise on top in the middle. Divide the hazelnuts and crispy cauliflower Drizzle everything with a little argan oil and place a few Jasmine blossom flowers on top of the preparation.
Recipe: Frank Fol - The Vegetables Chef®
Photo: Wim Demessemaekers, Photographer | @wim_dmskrs
Preparation time: 30 minutes
Techniques: stew, sauce, boil, raw
Plate: Wild Moon large flat ceramic
Recommended drink: Super Kroon beer, Brewery De Kroon, Belgium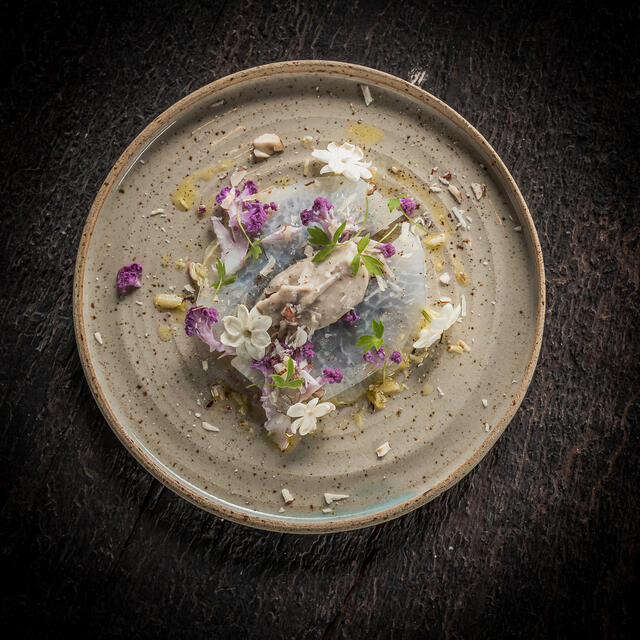 Related recipes
Gastronomical masterpieces
Related products
Say yes to the cress