Ingredients
(For 5 portions)
10g Zalotti Blossom
20g BlinQ Blossom
5g Paztizz tops 
Lobster: 
1250g lobster
butter
salt 
Chanterelle puree: 
150g chanterelle
shallots
butter
75g whipping cream 
Method
Lobster:  
Put a knife in the cross of the lobster's head. Insert the knife into the lobster and split the head in a quick motion, this is the most humane way to kill the lobster. 
Break off the lobster tail and claws. 
Boil a pot of water. 
Put the lobster tail in the boiling water for 30 seconds, cook the claws for 2-3 minutes. 
Put lobster tails and claw in a bowl of cold water. 
Peel the shell of the lobster tail and claws and season them with a little salt. 
Chanterelle puree:
Brush the cataracts thoroughly so that they are free of soil. 
Peel the shallots and cut them finely. 
Put butter in a pan and heat it up. 
Add chanterelles and shallots to the pan and toast well. 
Add cream and let it boil a little. 
Put chanterelles and cream in a blender and blend to a smooth puree. 
Season the puree. 
When serving:  
Melt a little bit of butter in a pan and warm the lobster meat in it, the lobster meat should not be browned by just heating up in the butter.  
Take the lobster meat out the pan and fry the chanterelles in the lobster butter.  
Serve lobster with chanterelle puree, fried chanterelles and herbs. 
Recipe: Søren Kyed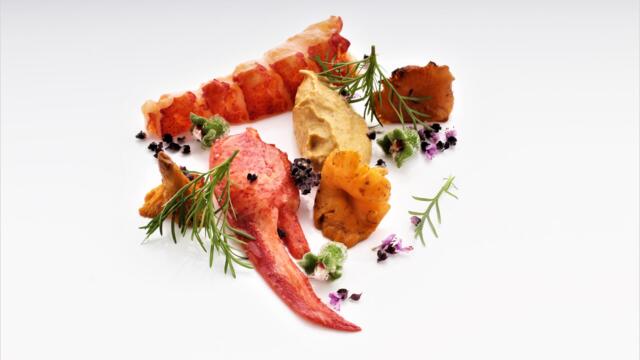 Related recipes
Gastronomical masterpieces
Related products
Say yes to the cress