Ingredients
For 4 portions
1 punnet Ghoa Cress                    
12 Yka Leaves                     
12 pieces Floregano                      
6 pieces peach                                
100g blueberries                          
16 biscuits lady finger biscuit   
200ml red wine                             
175g caster sugar                        
water                  
Method
Make a syrup with 100g of sugar and 600ml of water.
Poach the peaches in the syrup, cut them in halves and peel them.
Keep 4 halves whole, reserve 2 halves to slice finely and 4 for cutting out the circles.
Dice the leftover 2 halves and mix with half punnet of freshly cut Ghoa Cress.
Cut the biscuits in the middle and place each half standing up in a ring.
Soak the biscuit with syrup using a brush, and fill each ring with the peach and Ghoa Cress mix.
The red wine syrup and blueberries:
Reduce the wine and the other 75g of caster sugar left over to a syrup.
Brush each plate with the finish syrup.
Toss the blueberries in the left-over syrup and arrange on the plates.
Recipe: Frank Pontais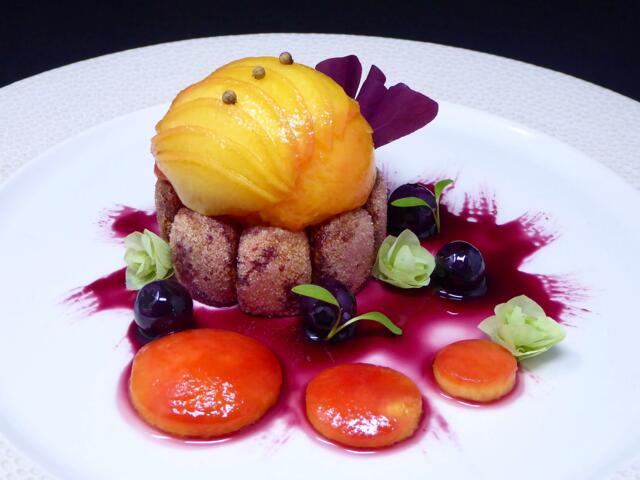 Related recipes
Gastronomical masterpieces
Related products
Say yes to the cress