Ingredients
(For 4 portions)
500gr freshly cut rhubarb
2 freshly picked cherries       
100g caster sugar            
400ml water              
1/2 tsp agar agar    
2 punnet Kyona Mustard Cress
Method
Cut the rhubarb to size using the hight of a rectangle or round pastry ring.
Pour the water in a saucepan with the caster sugar and bring to boil.
Immerse the cut rhubarb in the boiling syrup, bring back to boil and turn off the heat as soon as the syrup is boiling again. Cover with a plate and let cook/infuse for 6 to 8 minutes
Place the stick of rhubarb on a tissue paper and put the syrup back on the stove to reduce.
Once reduced to a good consistency, whisk the agar in the syrup.
Build the rhubarb using the rectangle pastry ring from the start and pour some warm syrup on top with a small ladle. Place in the fridge to set with the leftover of the syrup.
Once set, remove the rhubarb stack from the ring and place on the plate.
Using a little blender, blitz the leftover of the syrup (now set also) to a consistency paste and arrange some dots on the plate.
Add a few slices of cooked rhubarb, half of a cherry and the Kyona Mustard Cress.
Serve.
Recipe: Franck Pontais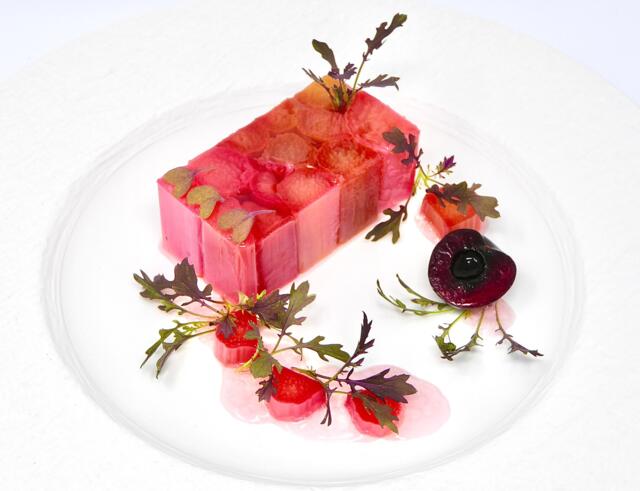 Related recipes
Gastronomical masterpieces
Related products
Say yes to the cress