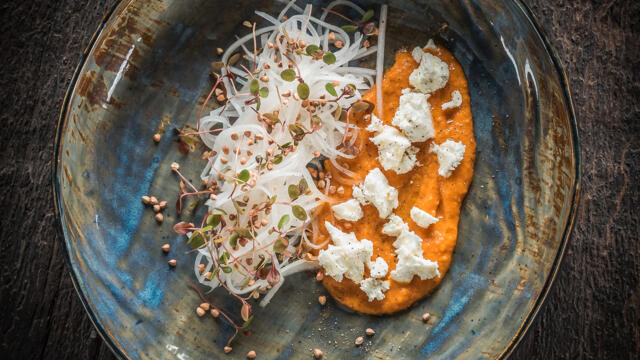 Rettich vermicelli with fresh goat cheese, roasted buckwheat, légumaise Italia and Adji Cress
,
Frank Fol – The Vegetables Chef®
Ingredients
(For 4 portions)
1 small rettich
White wine vinegar
Grilled buckwheat
Arqan argan oil
160 gr Fresh goat's cheese
Bio Légumaise Italia - Tomato with basil
Black pepper
Coarse sea salt
Adji Cress
Method
Vermicelli:
Peel the rettich.
Cut it into wafer-thin slices using planer.
Now cut into fine threads.
Season with sea salt and white wine vinegar.
Leave to marinate a little.
To finish off:
Spoon a scoop of Légumaise on one side of each plate.
Add the marinated vermicelli.
Place pieces of goat's cheese and some black pepper on top of the Légumaise.
Finish with buckwheat and Adji Cress on the vermicelli.
Recipe: Frank Fol - The Vegetables Chef®
Photo: Wim Demessemaekers, Photographer | @wim_dmskrs
Preparation time: 20 minutes 
Techniques: marinating, emulsion, roasting, raw
Plate: Wild Moon big blue bowl
Recommended drink: Job bier, Brewery De Kroon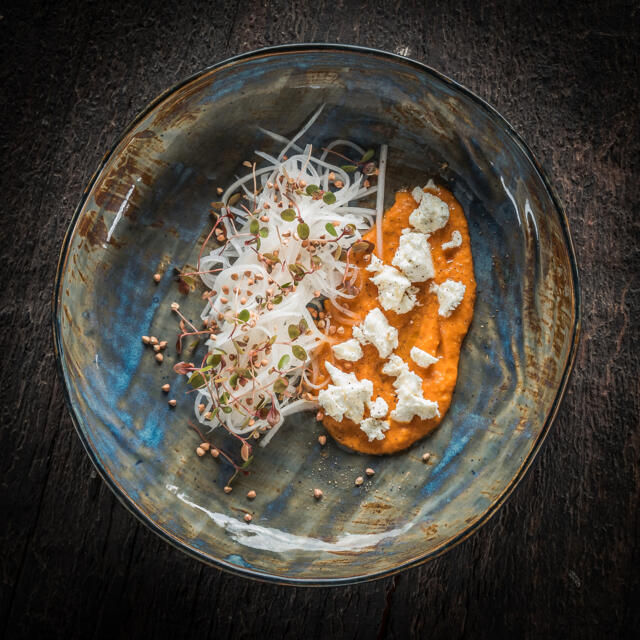 Related recipes
Gastronomical masterpieces
Related products
Say yes to the cress