Ingredients
5cl Scotch Whiskey macerated with ginger, cardamon and Adji Cress 
4cl lemon juice  
3cl Cardamom Leaves syrup 
1cl egg white 
Red chilli (decoration) 
Adji Cress (decoration) 
Method
Combine all the ingredients into a cocktail shaker, add ice and shake well to cool.
Strain into a glass and decorate with a red chili and a little Adji Cress.
Tips: Diego recommends accompanying it with two lemonades; one with ginger to enhance the flavours and spice, and another sweeter one with peppermint to add freshness and calm the heat.  
Pairing: Peruvian wild salmon tiradito with ponzu sauce and Mustard Cress.
Recipe: Diego Cabrera, Salmón Gurú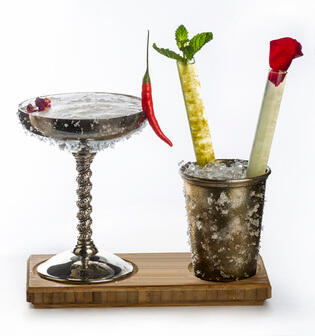 Related recipes
Gastronomical masterpieces
Related products
Say yes to the cress