Ingredients
(For 4 portions)
2 punnets BroccoCress
800ml water
200g purple heritage carrots
200g yellow heritage carrots
200g carrots (orange)
200g Brussels sprouts
½ tsp chopped garlic
1 tsp chopped fresh ginger
one pinch of salt
Method
Peel, cut and cook the purple carrots in a small pan. Drain, refresh and put aside. 
Peel, cut and cook the rest of the vegetables in the water with the pinch of salt. 
Drain and reserve the cooking water. 
Cut the BroccoCress and place in a pan, add the vegetables cooking water on top and bring gently to simmer with the chopped garlic and the chopped fresh ginger. 
Simmer for 10 minutes and take off the heat, cover the pan with a lid or plate. 
Let infused for 15 minutes. 
Place all the vegetables back into the BroccoCress bouillon. 
Bring back to simmer and serve hot. 
Recipe: Franck Pontais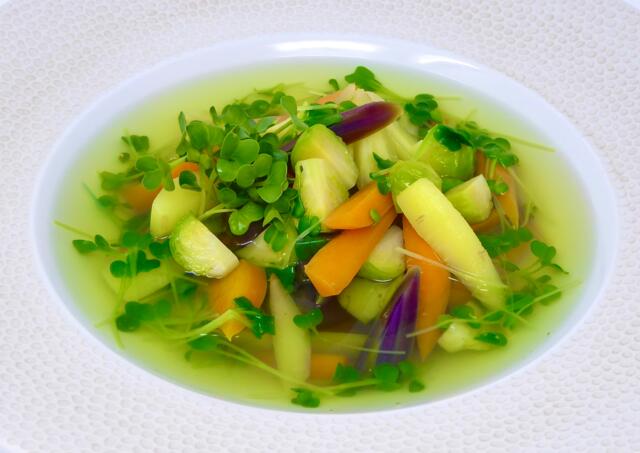 Related recipes
Gastronomical masterpieces
Related products
Say yes to the cress