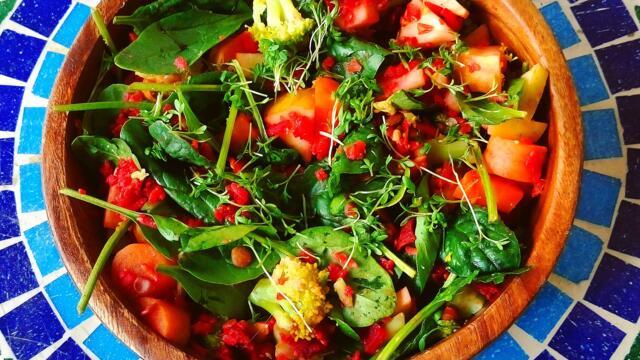 Pink powersalad
Source: Boost Your Health
Okay, you have to admit: food tastes better when it looks nice, right?
Ingredients
50 grams of brown rice
30 grams of lentils
1 grated beet
1 carrot
½ sprout of broccoli
50 grams of leaf spinach
1 apple
White wine vinegar
Pepper
Garden Cress
Cook the rice together with the lentils & beet in a small pan until done.
Cut the broccoli into pieces and the carrot into cubes and cook together.
Cut the apple into cubes and mix with the leaf spinach.
Add the cooked rice, lentils & beet and broccoli & carrot.
Pour a generous dash of white wine vinegar over it and sprinkle with freshly ground pepper.
Finish the salad with spicy Garden Cress.
Source: Boost Your Health 
Related recipes
Gastronomical masterpieces
Related products
Say yes to the cress