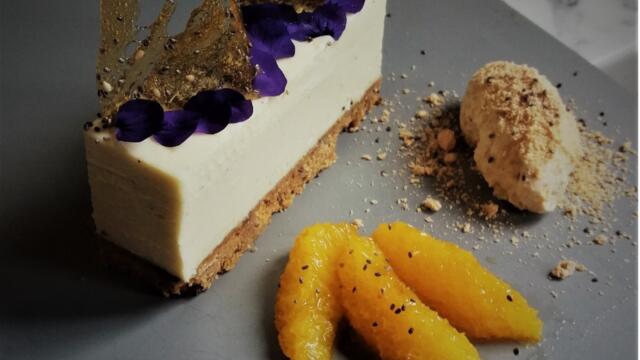 Sechuan infused white chocolate and ginger tart
Sechuan infused white chocolate and ginger tart, seed brittle, orange compote, caramelized white chocolate ice cream.
Ingredients
(For 4-5 portions)
Tart:
250g double cream 
30 Sechuan Buttons 
150g cream cheese 
125g thick greek yoghurt 
2 vanilla pods 
400g white chocolate callets 
10 high quality ginger biscuits 
3 balls stem ginger 
50g unsalted butter 
pinch Maldon salt 
Brittle:
4 tbs caster sugar 
½ tbs sesame seeds 
½ tbs poppy seeds 
Orange:
1 orange 
1 tbs caster sugar 
1 tbs stem ginger syrup (from jar) 
Caramelized white chocolate:
300g white chocolate callets 
Ice cream: 
125g caramelised white chocolate 
125ml double cream 
250ml whole milk 
50g caster sugar 
pinch Malden salt 
3 egg yolks 
Plate dessert as shown in the picture. Can be decorated with viola flower petals and more grated caramelised chocolate. 
Method
Tart:
Heat double cream in a pan along with Sechuan Buttons. Bring to a simmer and remove from heat. With a stick blender, blend until the buds have broken down. Leave overnight to chill and infuse. 
Melt the butter. In a food processor blend the biscuits, salt and stem ginger until fine and broken down. Line a loaf tin or similar with clingfilm, making sure it comes over the sides. Press the biscuit mix into the bottom of the tin with a pallet knife until even. Chill for at least ten minutes. 
Melt white chocolate in a bowl over water. Remove from heat and allow to cool a little. In another bowl, mix all the remaining dairy, the seeds of the vanilla pod. Sieve and add 200g of the Sechuan infused cream. Add the cooled white chocolate and mix well until smooth and combined. Pour mixture into the tin. Use a pallet knife to level and smooth the top. Chill until firm (few hours). 
To portion, carefully lift the tart from the tin with the clingfilm. Dip a sharp knife into hot water and slice the tart into portions. Do this and leave to get to room temperature before serving. 
Brittle:
Put sugar in a pan with a tbs water and bring to boil. Cook until reaches the caramel stage. Add the seeds and working quickly spread the mixture as thinly as possible with a pallet knife on a silpat matt or sheet of greaseproof. Allow to cool and then break up as needed. 
Orange:
Peel and segment the orange, removing all white pith. Squeeze the juice out of the remaining orange into a pan and add the sugar and syrup. Bring to a simmer and reduce until thickened. Do not allow it to burn. Add the orange segments to the syrup and combine gently to keep segments intact. Serve at room temperature. 
Caramelized white chocolate:
Spread white chocolate on a baking sheet and roast in the oven at around 150°C, stirring every few minutes. It will turn a golden brown and become more of a biscuit texture. Remove from the oven once all the white chocolate is light brown and caramelised. Cool and then grate into a bowl. 
Ice cream: 
Heat the cream and milk in a pan until simmering. 
In a bowl or mixer, whisk the egg yolk and sugar until light and airy 
Add Grated caramelised chocolate, salt and hot dairy. Put back in the pan and heat gently, stirring constantly until it coats the back of the spoon like a custard. Chill. 
Churn the custard in an ice cream machine until ready. Freeze until needed. 
Plate dessert as shown in the picture. Can be decorated with viola flower petals and more grated caramelised chocolate. 
Recipe: David Hussey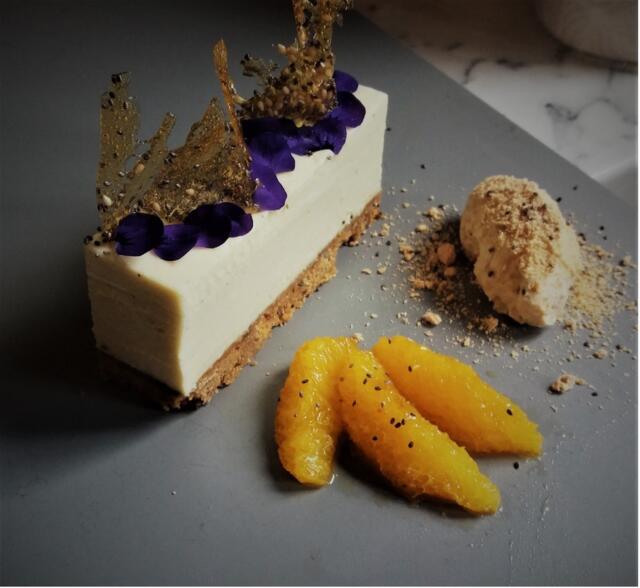 Related recipes
Gastronomical masterpieces
Related products
Say yes to the cress