Ingredients
10000 gr water
1750 gr whole milk powder
300 gr skimmed milk powder
2150 gr granulated sugar
1768 gr whipped cream (35%)
650 gr dextrose
334 gr glucose powder
82 g binding agent (for hot preparation)
2 trays of Shiso Leaves Green
Method
Heat the water and whipped cream to 40°C.
Mix the binding agent (for hot preparation) with 250 gr granulated sugar.
Mix the other dry ingredients together.
Now mix the remaining dry substances with the mixture of water and whipped cream and heat to 85°C.
Then let it cool down to 4°C.
Now put the whole thing in the fridge and let it ripen for 8 hours, at 4°C.
Blanch the Shiso Leaves.
Turn this through the ice cream mix with a stick blender.
Turn it into a nice ice cream.
Recipe: Hidde de Brabander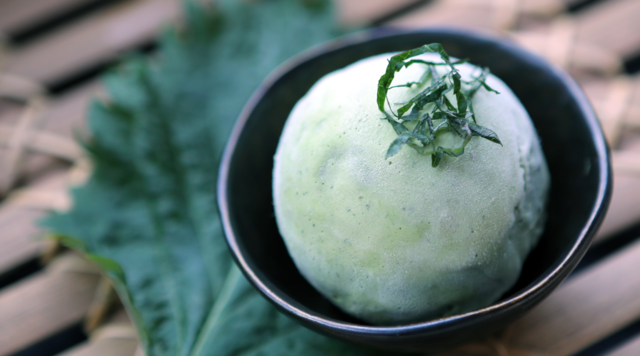 Related recipes
Gastronomical masterpieces
Related products
Say yes to the cress