Ingredients
(For 4 portions)
1 punnet Atsina Cress
12 flowers Floregano
4 pieces clementine
130gr butter (softened)
100gr golden caster sugar
150gr caster sugar
100gr self-raising flour
1/2 tsp baking powder
3 small eggs
2 tbsp milk
Method
Generously grease a 1lit pudding bowl with 30gr of butter. 
Make some clementine zest out of two clementine. 
Using a mixing bowl, whisk the golden sugar with the rest of butter (100gr) until pale and fluffy. 
Add the flour, baking powder and clementine zest to the mix and finish by adding the milk and eggs. 
Pour the mix in the buttered pudding basin and seal well with a tin foil and piece of string. 
Cook cover in a Bain Marie for at least 1,5 hours. 
Meanwhile, make the syrup with the juice of the two grated clementine, 350ml of water and 150gr of the caster sugar. 
Cut the other two clementine into fine slices and poach them in the syrup. 
Once cooked, take the steamed pudding out of the basin, and pour the hot syrup on top little by little. 
Cover with the cooked clementine slices and add the Atsina Cress and the Floregano. 
Serve. 
Recipe: Franck Pontais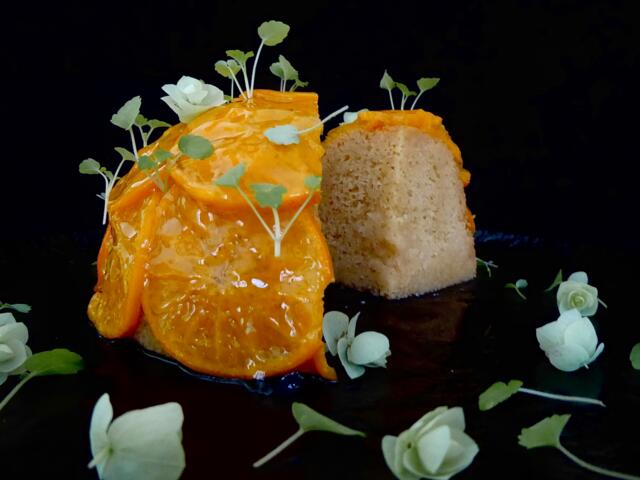 Related recipes
Gastronomical masterpieces
Related products
Say yes to the cress