Ingredients
Strawberry-mango purée: 
50 g organic strawberry's  
30 g Thai mango – fully ripened
fresh rose pepper berries, french quality 
8 g Manuka honey  
Melissa Cress 
Jasmine Blossom 
Chocolate – Paztizz: 
40 g organic strawberries  
30 g dark chocolate mousse - classic preparation  
1 dash Galliano Vanilla liquor  
25 g Buffalo yoghurt  
1 Sechuan Button  
Adji Cress 
strawberry  
3 Paztizz Tops  
Method
Mix strawberries, mango, rose pepper berries and Manuka honey in a fast blender – heat up to 40°C and cool down asap to preserve the best taste, place in the first bowl of the Zieher Plate and add Melissa Cress and Jasmine Blossom on top. 
Mix the Buffalo yoghurt with 2 Paztizz Tops and 1 Sechuan Button and fill in the second bowl of the Zieher Plate. Mix chocolate mousse with strawberries and Galliano and place on top of it. Add the strawberry, Adji Cress and Paztizz Tops and serve together with Italian espresso. 
Recipe: Marcel Thiele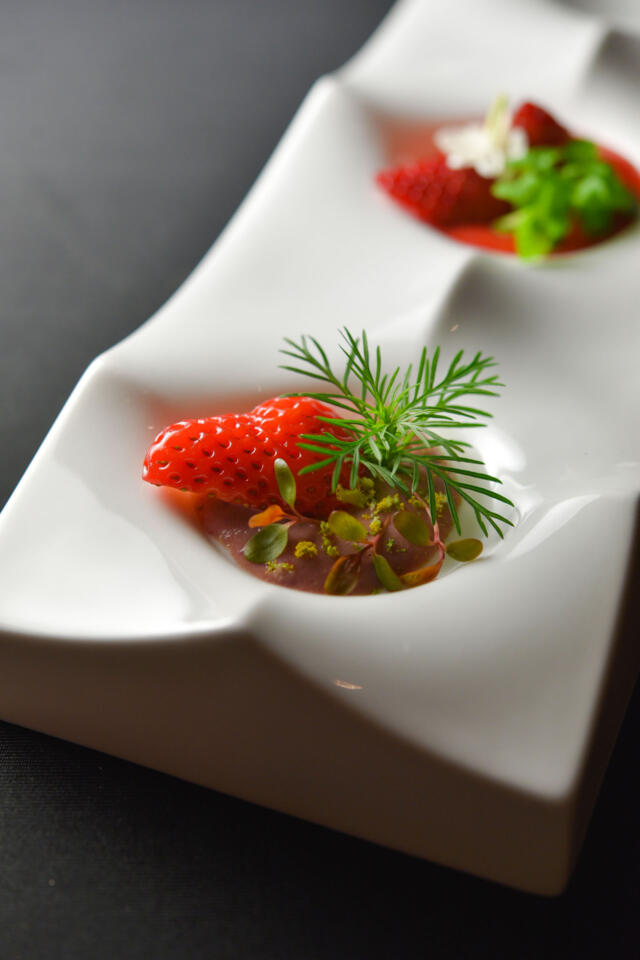 Related recipes
Gastronomical masterpieces
Related products
Say yes to the cress