Vegan blueberries and sweet butternut squash parfait
Ingredients
(For 4 portions)
For the base of the parfait:
80gr puff cooked amaranth
1 tsp agave syrup
1 tbsp coconut oil
For the parfait:
4 pieces Gangnam Tops
8 pieces Dushi Buttons
4 pieces Jasmine Blossom
12 pieces Paztizz Tops
4 pieces Citra Leaves
500gr cooked butternut squash
juice from one lemon
2 gr agar agar
30gr agave syrup
100gr blueberries
20ml coconut oil
20gr caster sugar
Method
For the base of the parfait:
Melt the coconut oil and mix all the ingredients together. 
Press down (a fine layer) at the bottom of the rectangle ring and let set in the fridge. 
Press the left-over mix into 4 half sphere silicon moulds. 
For the parfait:
Melt the coconut oil and dip the blueberries into it. 
Remove them one by one with a pair of tweezers and toss them into the caster sugar. 
Dip the 4 pieces of Gangnam Tops and proceed the same way. 
Pour the lemon juice into a saucepan with the agave syrup and the agar agar. 
Bring to boil for 2 minutes, let cool down a little and mix in into the smooth butternut squash puree. 
Fill the rectangular mould with the mix (on top of the amaranth base). 
Fill 4 half silicon spheres with the rest of the mix and let set in a cool place for a minimum of one hour. 
Built the dish with all the elements and serve. 
Recipe: Franck Pontais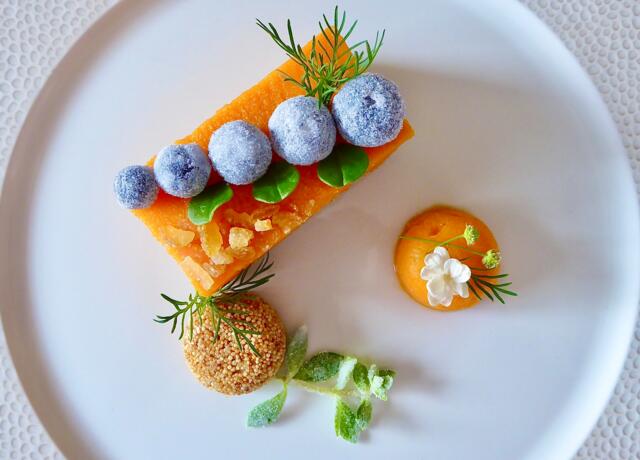 Related recipes
Gastronomical masterpieces
Related products
Say yes to the cress