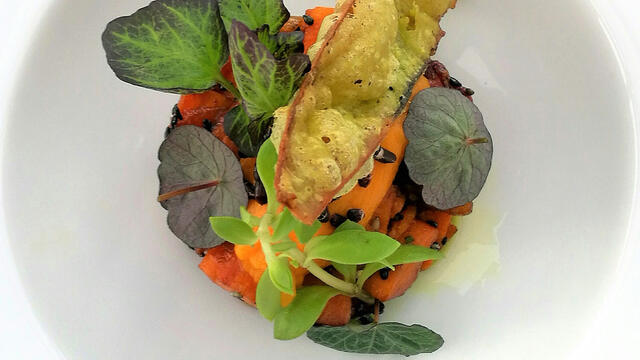 Gamja Jorim and sweet potato skin Zorri Cress tempura
,
4 to 6 portions
Another creation by Franck Pontais: Sweet potato Gamja Jorim, sweet potato skin Zorri Cress tempura, Gangnam Tops, Hippo Tops and Zorri Cress
Ingredients for Gamja Jorim
Sweet potatoes 1 kg
White onions 150g
Garlic 1 clove
Glucose 2 tbsp.
Sugar 1 tbsp.
Water 100ml
Soya sauce 100ml
Black sesame seeds 1 tsp
Sesame oil 1tsp
Season to taste
Method
Peel and dice the sweet potatoes into equally sized pieces
Chop the white onions in the same way.
Fry the sweet potatoes gently with the garlic and onions with a little bit of olive oil.
Add the water and soya sauce and cook on a low heat for about 10 minutes
Season to taste and add the sesame oil and the sesame seeds.
Sweet potato and Zorri Cress tempura
Ingredients
Sweet potato 1 each
Zorri Cress pulp 1 spoon  
Tempura batter, seasoning, water and oil for frying
Method
Bake the potato whole with the skin on for 40 minutes. once cooked and soft , cut and divide into 4 quarter. Peel gently the skin off and reserve the flesh for the mousseline.
Dry the skin in a dehydrator machine for 30 minutes.,
To make the Zorri Cress oil and pulp. Blitz together in a high speed blender 2 punnets of zorri cress and 300 ml of Grapeseed oil.
Pour in a fine sieve or coffee filter and use the pulp to add to the tempura batter. The oil will also be use on the plate.
Dress the plate with the Gamja Jorim at the bottom; add a little spoon of sweet potato mousseline on top.
Add the Potato Zorri Cress tempura and puffed rice, Hippo Tops, Gangnam Tops and Zorri Cress.
Drizzle with Zorri Cress oil and serve.
Related recipes
Gastronomical masterpieces
Related products
Say yes to the cress