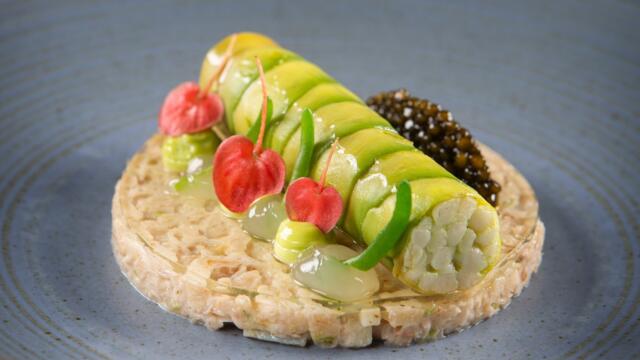 North Sea crab
Source: Culinaire Saisonnier
North Sea crab, avocado, caviar and apples from our own orchard.
Ingredients
200 g cooked North Sea crab meat
150 g apple brunoise
1 dl homemade apple juice
1 g agar
50 g lime mayonnaise
5 g tarragon twigs
20 g lime gel
50 g tarragon mayonnaise
12 pcs Salty Fingers
12 pcs Apple Blossom
1 ripe avocado
40 g of cooked pearl couscous
1 lime
20 g of caviar
Method
Parry the avocado and cut thin slices lengthwise. Place the slices overlapping on plastic foil and season with olive oil, salt and pepper and some lime zest. Mix the couscous, half of the apple brunoise, one part tarragon mayonnaise, zest and juice of the lime and salt and pepper. Spoon this onto the avocado and roll up tightly. Reserve cool. Mix the crab with the remaining apple brunoise, finely chopped tarragon, lime mayonnaise and salt and pepper. Make a gel with the apple juice and agar. Divide the crab salad over 4 cutters, press well and put a slice of apple jelly on top. Cut the avocado roll into 4 equal pieces and arrange on top of the jelly. Garnish with the tarragon mayonnaise, lime gel, Salty Fingers and Apple Blossom. Now divide the caviar over the plates.
Source: Culinaire Saisonnier
Photographer: Dirk Kerstens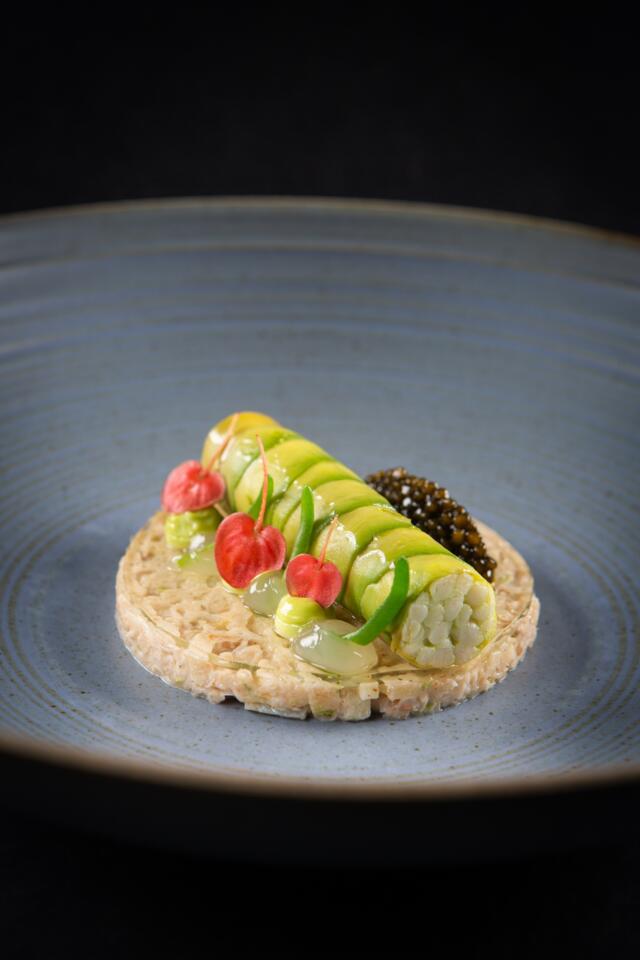 Related recipes
Gastronomical masterpieces
Related products
Say yes to the cress