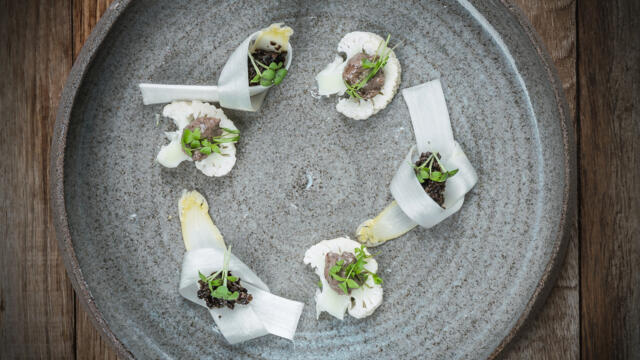 Cauliflower slices and raw asparagus curls
Cauliflower slices with crema di tartufi bianchi & Persinette Cress + raw asparagus curls with salsa tartufata and Mustard Cress.
Ingredients
(For 4 portions)
1 piece of cauliflower
1 jar of crema di tartufi bianchi Tartivo
cup of Persinette Cress 
4 thick asparagus
1 jar of salsa tartufata Tartivo
cup of Mustard Cress
Method
Cauliflower:
Wash and cut the cauliflower into slices of about 4 mm.
Spoon a little crema on each slice of cauliflower and place a few sprigs of Persinette Cress.
Asparagus:
Peel the asparagus. Use a slicer to cut fine slices or strands of asparagus.
Be gentle and make a knot with each string without over-tightening it so that it does not tear.
Spoon a little tartufata on each curl and place a few sprigs of Mustard Cress.
To finish off:
Make as many as you want and place on a plate.
Recipe: Frank Fol - The Vegetables Chef®
Photo: Wim Demessemaekers, Photographer | @wim_dmskrs
Preparation time: 10 minutes 
Techniques: veggies
Plate: Wild Grey Plate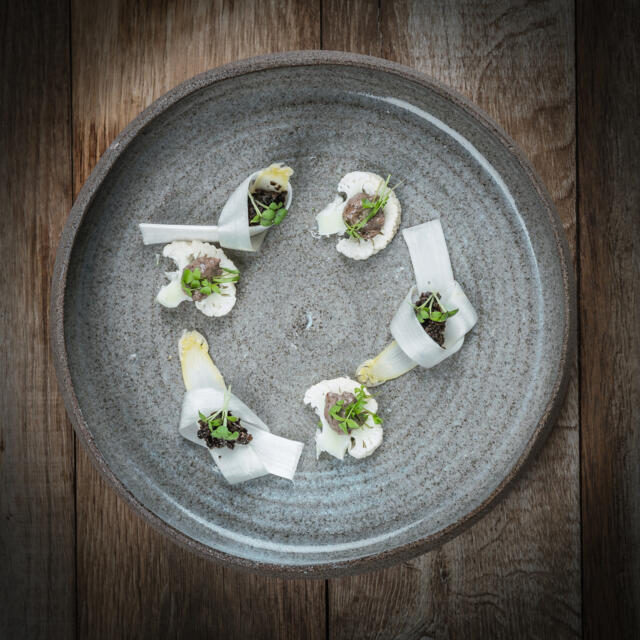 Related recipes
Gastronomical masterpieces
Related products
Say yes to the cress