Ingredients
(For 4 portions)
2 punnets Adji Cress
1 punnet Rock chives
1500ml vegetable stock
200g sliced button mushrooms 
6 pieces bean curd 
60g dried shiitake
2 medium finely sliced cloves of garlic
80 g finely sliced red onions
4 medium pieces sliced spring onions
1 tbsp dark soya sauce
160g dried egg noodles
Method
Cut each bean curd into two. 
Pour vegetable stock in a saucepan and add the dried shitake mushrooms, bring to simmer. 
Cook until the mushrooms are fully soft and cooked, it would take just a minute or two. 
Take the mushroom out of the stock, slice them and put them back in the liquid with the finely chopped garlic, the chopped red onions, the dark soya sauce, the sliced spring onions and the sliced button mushrooms. 
Let cook for 6 to 8 minutes and add the eggs noodles, let simmer for a further 2 to 3 minutes, the noodles won't take long to cook. 
Take off the heat and fold the freshly cut cresses gently into the soup. 
Add 3 pieces of bean curd in each bowl and serve immediately.
Recipe: Franck Pontais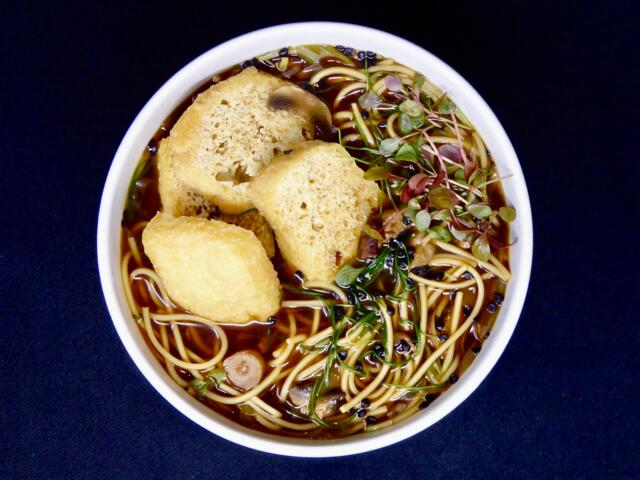 Related recipes
Gastronomical masterpieces
Related products
Say yes to the cress