Ingredients
(For 4 portions)
160g sustainable halibut
4 onions or shallots cut in half
100g feta cheese 7% salted
½ L chicken stock (well reduced)
a few stalks of Lemon grass (crushed)
8 spinach leaves 
20g caviar
 ½ punnet Atsina Cress 
 ½ punnet Rock Chives
8 Bean Blossoms                      
Method
Infuse the chicken stock overnight with the lemon grass, then pass through a fine sieve and reduce. You will be using two tablespoons per plate.
Cut the onions into two, not in length but across, so you can remove the rings once cooked. Vacuum pack in a microwave for around 1 minute or until soft.
Once you have all the rings burn them face down on a "plancha" type of grill to give the colour and the BBQ flavour.
Cook the fish pan-fried and finish in the oven.
Break the feta into small pieces and crush on top of the fish.
Quickly steep the spinach and keep as whole leaves.
Plate up the dish with caviar and add the freshly cut Atsina Cress, Rock Chives and the Bean blossom.
Serve and enjoy.
Recipe: Daniel Galmiche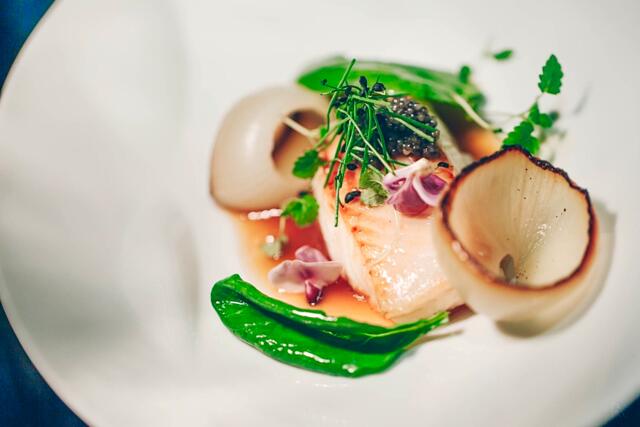 Related recipes
Gastronomical masterpieces
Related products
Say yes to the cress