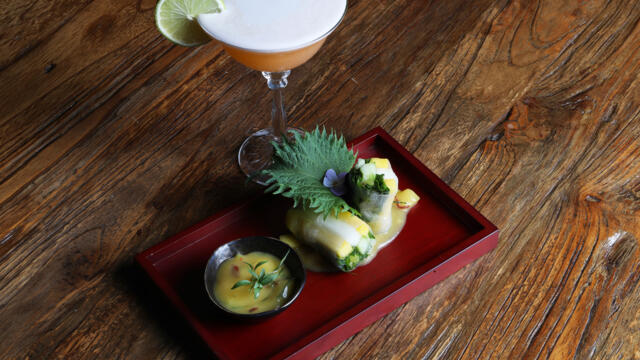 Dik & Schil Sour with spring rolls
Ingredients and method
Drink (60ml / 40ml) ingredients:
60 ml Dik & Schil gin
40 ml Dik & Schil Orangecello
20 ml egg white (1 egg) / foam
20 ml lime juice
Ghoa Cress
3 dashes Electric Bitter
Drinking method:
Add the drink, protein and lime juice to a shaker.
Shake for 15 seconds without ice.
Add ice to the shaker and shake for another 15 seconds.
Pour the drink into a chilled glass.
Use a (hawthorne) strainer to filter the drink.
Add three dashes of Electric Bitter and garnish with a lime wheel.
Bite ingredients:
mango
bok choy
cucumber
spring onion
Shiso Leaves Green
Salad Pea
Ghoa Cress
chutney from...
mango
smoked red pepper
Kaffir Lime Leaves
Cardamom Leaves
rice pad
Bite method:
For the chutney
Fruit cubes of mango in oil with red pepper, Kaffir Lime Leaves and Cardamom Leaves.
Puree half a mango and cook it gently with the aforementioned ingredients for 5 minutes.
Remove the Kaffir Lime Leaves and Cardamom Leaves.
For the spring roll
Cut coarse julienne from the vegetables (1/2 cm).
Soak the rice dough in lukewarm water for 5 seconds.
Place this on a cutting board and add: the vegetables, Salad Pea, Ghoa Cress and halved Shiso Green Leaves and 2 tablespoons of chutney and roll closed.
Recipe: Dik & Schil and Eric Miete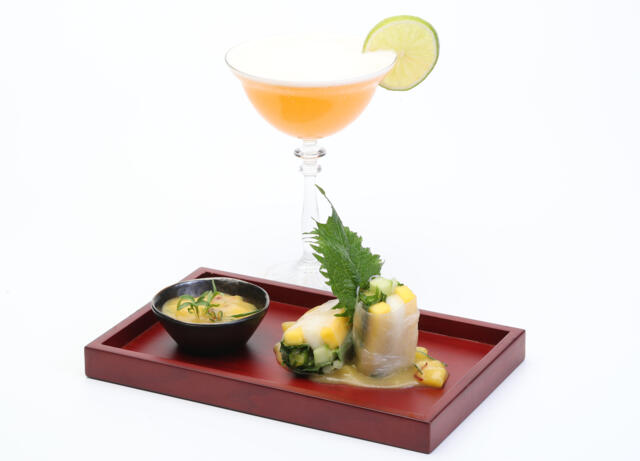 Related recipes
Gastronomical masterpieces
Related products
Say yes to the cress